UPDATE – Lumberjack Feud is no more in Pigeon Forge. The venue was taken over by Dolly Parton and re-opened as a new show in May, 2017. This unique new show in the same theater is Dolly Parton's Smoky Mountain Adventures Dinner & Show.
---
Lumberjack Feud in Pigeon Forge has a name for being the rowdiest and most fun family dinner show in the Smoky Mountains. Whether you go for just the show or the dinner as well, be prepared to have fun – you won't be finding a quiet table in a corner.
This dinner theater show is staged in a huge arena that has the feel of a circus. The acts are definitely on display for the guests, with diners in top position in closer rows that encircle the stage area, while the non-dining show-watchers take the rows behind.
And not many stages feature a large pool in the middle for log-rolling contests!
The Feud is built around lumberjack activities, giving the excuse for professional ESPN timber athletes to compete in currently 10 different logging events, such as chainsaw carving, axe swinging, tree climbing, and of course the log rolling.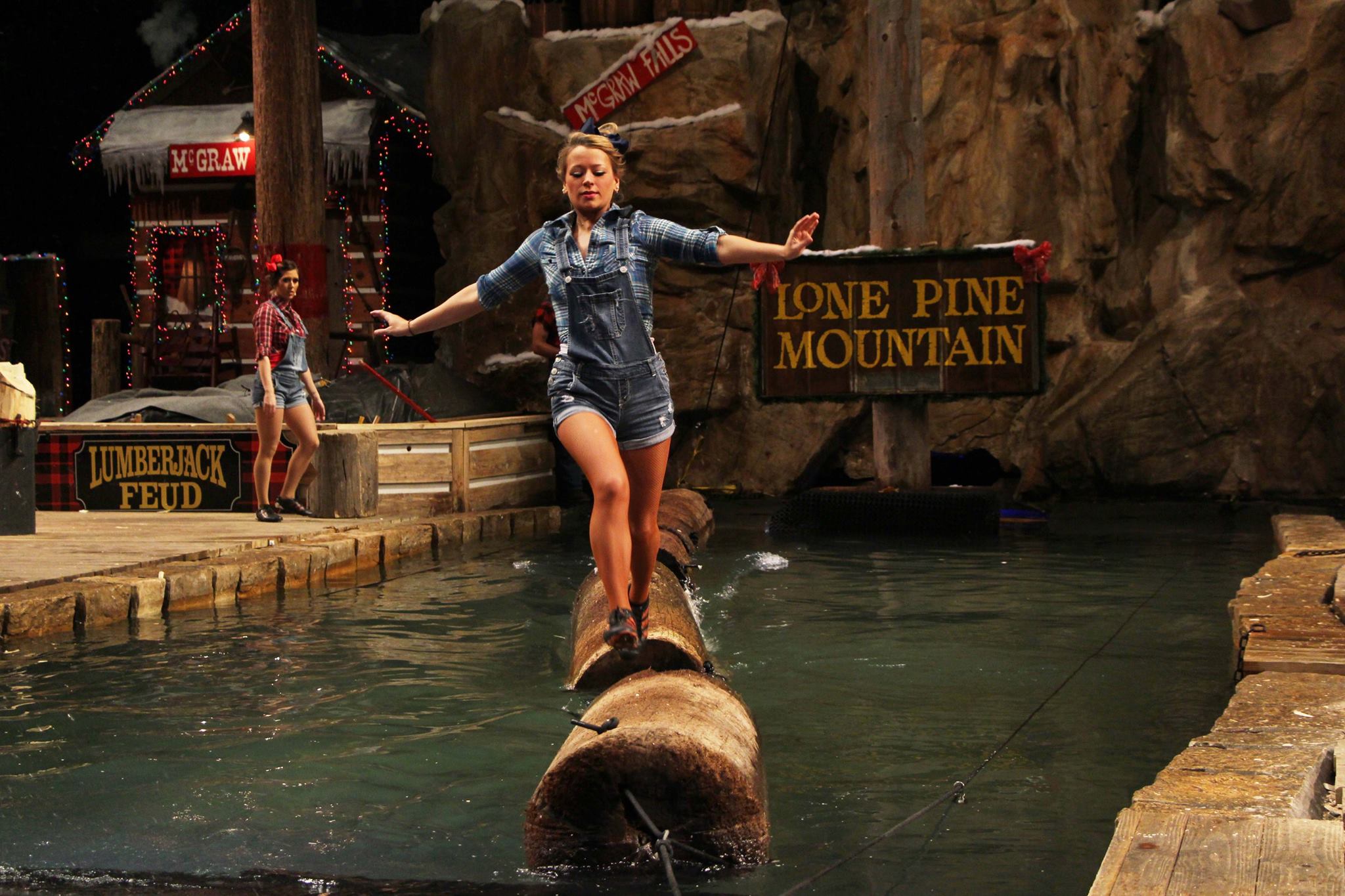 If that's not enough to keep your attention, look for the zip lines (!) and the draft horses pulling logs, the bears, the song and dance, and rarely out of the action the timber dogs that love to jump and fly through the air – they're pretty nimble on those logs too. There's also comedy and antics throughout the show.
Circus feel or not, don't expect just to sit back and watch the Lumberjack Feud. The cast are very friendly, talking to customers as they enter, seating guests, and signing autographs and taking pictures after the show. You may well find yourself caught up in a contest of some kind, but only because the fun has taken you over.
Fun is very contagious at the Feud, and if your kids are not actually in a contest of some kind they'll be standing in their seats cheering on their favorites and belting out the signature lumberjack yell, "YOHO!"
Whew! Tired yet? The LumberJacks and LumberJills of the Feud seem to glow with energy and you can catch a burst of it just from eating dinner. You will be wide awake when you leave, and probably ready to do something productive with a forest!
Lumberjack has become so successful since it opened in Pigeon Forge in 2011 that Dollywood announced in the summer of 2015 that it had bought the show! The hugely popular theme park planned to keep the show the same, but to add even more spectacular touches, in grandstand Dollywood style.
Check our blog for a charity event recently when Lumberjack Feud staged a battle between our local firefighters and the police department: Lumberjack Feud: Climbing For Hope.
And taken from that blog post, here's a perfect taste of the Feud, captured in 30 seconds by a guest:

Lumberjack Feud
2713 Parkway
Pigeon Forge, TN 37863
Save
Save
Save
Save
Save
Save