Who's going to the Gatlinburg Craftsmen's Fair? This 2014 summer's Fair is held July 18-27 in the Gatlinburg Convention Center. Over 200 booths of every conceivable form of arts and crafts, live demonstrations of skill and talent from among our huge local community as well as from across the nation.
The Craftsmen's Fair is held twice each year (for the 39th year now) and each time is endlessly fascinating. Amid the bustle, there are free live music performances during the days, and LOTS of people coming to this enormously popular and highly rated 10-day show.
Participants in the Fair are selected by a jury process, which means only the top craftspeople get in – hence the national-class quality of this event.
We always remark that so many people with a lifetime of skill seem so happy to have people watching over their shoulder as they work. Seeing something being created by hand with precision and skill is always an uplifting experience – and it seems the same for those demonstrating their craft.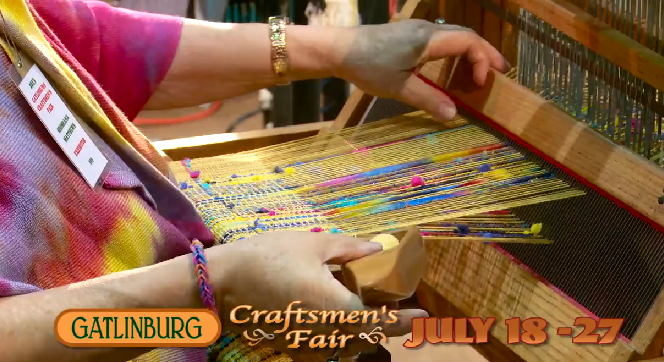 You always learn something at the Craftsmen's Fair, and kids are never bored. In fact there's now a free children's area for age 2 and up where kids can get hands-on with a vast range of projects.
You can buy as well as watch, and the gift shopping opprotuinites are almost endless. This is a great place to meet the artists and even commission a unique piece.
The Craftsmen's Fair is open 10 am to 6 pm daily, Sunday 10 am to 5 pm. It's downtown at the Gatlinburg Convention Center (traffic light #8). Admission is $6 and children 12 and under are free. For more information call 865-436-7479 and check the Craftsmen's Fair website.