Read the Inside Story of Things to Do
Here at Cabins of the Smoky Mountains we live, work and play in the Gatlinburg and Pigeon Forge area, and we try to pass along to our guests some of the best highlights of the Smoky Mountains and the national park to visit during their stay here.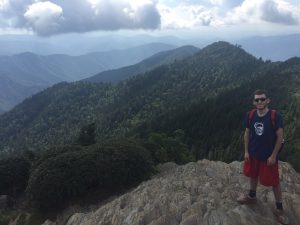 Hi, I'm Tony Perez and if there's one thing I've learned in my years here it's that there's just too much to do – I'm not sure I can fit it all into one lifetime, and I KNOW that people on an all-too-short stay here don't have any time to waste on anything boring. We get asked for lots of advice, and we've compiled a lot of our best answers here.
You can see many of my posts over at the blog, where I try to highlight current happenings and changes. But here in our Things To Do section of the website, we're choosing some of the absolute must-know attractions in the area for your consideration.
Must-Know? Yes, because in my view, there aren't any Must-Do's or Must-See things here. This place is far too filled with far too many wonderful things, and what you choose to visit in your limited time here is entirely up to what your idea of fun is – and our goal is to give you the choices.
It's not just my opinion either, I always check with other locals and my own team members for their views on an attraction. So what you'll find here are many of the highest rated, top things to do and see during your stay in the Smokies.
Let's get started, with a rough breakdown of the types of activities and attractions you can find here in the Gatlinburg and Pigeon Forge area, and Great Smoky Mountains National Park.
Table of Contents
Accommodations
It's no surprise that I would recommend a vacation cabin to stay in during a visit to the Smoky Mountains. Even before working here, after I stayed in a cabin for the first time, I would never go to any other kind of accommodation (except camping, but that's a different thing).
And from working with countless visitors to the mountains I've come to realize the many reasons people choose cabins. For people with kids, it's a money saver and a hassle saver. First, you can get up when you want and cook your own breakfast without having to make a trip of it, and without having to spend money – a table for four adds up fast. And you can take the leftovers from a restaurant meal and they're actually good when you have a full kitchen to reheat them in.
The cabins are loaded with games and electronics – flat screens in practically every room, DVD players, sound systems, cable and satellite, Wi-Fi – not to mention the bigger cabins with home theaters. Then there's foosball, shuffleboard – and every cabin I've ever been in had a pool table. Even people who don't play seriously want to shoot a little pool, young and old alike.
The cabin features themselves are pretty cool, plenty to keep the kids occupied while the grownups can fix a meal or do laundry (another great feature, because you can go on a hike and wash clothes after, so you go home with clean clothes instead of a bag full of laundry). Or maybe not work – parents never get a break but in the cabin they can laze in the hot tub or curl up with a book, or do what I do a lot which is just to rock on the deck and look at the view. And the kids are deep in a movie or something. The nicest thing is that everyone is still family.
I've seen two families share one larger cabin and the savings on the cost are significant. For the amenities included in the one fixed cost, the savings were always hard to beat, it seemed to me. And the specials are amazing sometimes, incredible deals at half price, for example. The cabin means you always have good parking, and it always feels like being on vacation in the mountains, not stuck in a room somewhere. Then you can really plan your trips out from the cabin, rested and provisioned for the day and with a great place to come back to after.
We have over 340 cabins to choose from, and the front desk people are really good at matching visitors up with the perfect cabin for their group and their stay here – phones are open 24/7, and sometimes they get busy but keep trying! And in the website we have lots of good information to help you choose how and where to book, and find your perfect cabin.
Check out the descriptions of the different Resorts also. Resorts are collections of cabins that offer group amenities to varying degrees – very often a swimming pool. And this gives you a sense of where the optimum cabin location is for the trip you have planned, whether you're heading into the national park, planning a day at Dollywood, etc. Having the cabin convenient to your itinerary is useful.
Outdoor Activities
I'm big on the outdoors, and we have a whole section here devoted to some of the best things to do outdoors in the Smoky Mountains – see our Outdoor Activities guides. The good news is, for several of the very best activities we're giving away Free Tickets and Coupons, in a book of giveaways worth over $700, free with each cabin booked.
Read on for the rest of the Inside Story of Things to Do…