Gatlinburg Honeymoon Cabins
Celebrate your honeymoon in a luxury Gatlinburg cabin nestled in the Smoky Mountains, with full amenities to stay in total comfort and privacy, and to venture out for fun together.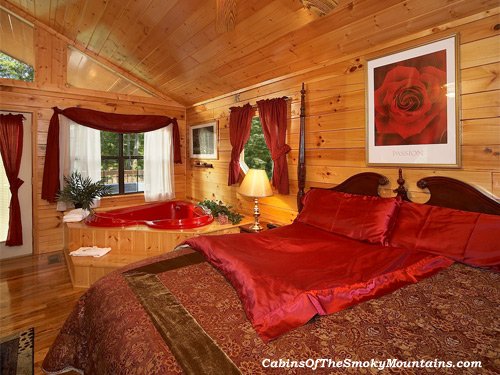 ---
Gatlinburg and the surrounding Smoky Mountains are one of the world's favorite places to get married. And after the wedding comes the honeymoon - and equally important choice but this time just for the two of you. Whether you've bid your guests goodbye and remained in the Smokies, or fled the scene elsewhere for a private getaway in the mountains, the Gatlinburg honeymoon cabin is waiting for you.
Celebrate your newly pledged togetherness in a cozy and intimate cabin tucked away in the woods or perched on a mountain ridge, with everything you need to live in your vacation home away from home, and surrounded by the gorgeous Smoky Mountains.
Romance is in the air in the Smoky Mountains, as couples come for a romantic getaway, and to propose marriage, and come back to get married and to honeymoon, and return again for anniversaries or to renew their vows - all in one of the numerous luxury cabins available.
Cabins throughout the Gatlinburg, Pigeon Forge and Wears Valley area all have fully equipped kitchens for your at-home breakfast or midnight snack, with available delivery of supplies and even in-cabin chef service for a sublime celebration dinner. Relax in the porch swing or hot tub, luxuriate in the Jacuzzi, or put your boots on for a stroll in the outdoors, a scenic drive, or a show in town.
Honeymoon Cabin Amenities include:
Heart-shaped Jacuzzi
Hot tub
Fireplace
vertical jetted shower spas
You can plan your wedding in Gatlinburg as well as your honeymoon, with numerous professional services ready to help you make the multiple arrangements. Our wedding planners take the effort out of marriage and leave the romance in. See our Gatlinburg Wedding Packages for all your possibilities.
Gatlinburg cabins come in sizes from cozy 1-bedrooms up to 20-bedroom lodges, so wedding groups of any size can be accommodated - you can even be married in your cabin. And the honeymoon doesn't have to be your first time - sometimes couples will come for the celebration they couldn't afford in earlier years, and couples come each year for their anniversary, or even to renew their vows.
Be sure to check our regular Specials on cabin discounts to stretch that honeymoon budget even further. And enjoy our book of Free Tickets that comes with each cabin, offering fun on some of the best attractions in the Smokies. As one of the largest vacation cabin rental agencies in the Gatlinburg area, we offer discounts that no one else can match.
To find your perfect honeymoon cabin, call us 24/7 toll-free at 866 34 SMOKY.
---
Our Honeymoon Cabins
Tap on row for more cabin info.