Gatlinburg Weddings
Your Wedding Ceremony
We can arrange the perfect wedding ceremony for you. Whether it's a larger wedding held in our Wedding & Conference Facility, or a small wedding in your cabin, or anything in between - the options are abundant!
Let our wedding planners customize your Wedding Ceremony and the Wedding Reception to fit your budget, your style and your guests, and to make the memories you want.
Your Wedding Day is your special day, and we can help you make it as perfect as it deserves to be.
Even if you decide to get married at the last minute, don't worry, last-minute reservations are welcome and we will do everything we can help you get your special day perfect. We can accommodate very large groups in our multi-bedroom cabins, or in smaller cabins grouped next to each other.
For cabin rates and availability, call toll free
866-347-6659
Your Wedding Your Way - Customized Wedding Ceremony
There are dozens of details to arrange to make your special Wedding Day perfect, and most brides don't need that headache as they prepare for their new life. Our wedding planners take all the stress out of the occasion and just leave the magic in place.
It begins with a simple conversation, where our expert planners can determine the basics, such as the size of the group you have in mind, how your guests will be accommodated, what kind of budget you're looking at - matching the budget is important for everyone - and what style of event you want to create for your lifetime memories.
Our wedding planners can show you options and possibilities that you may not have thought of, and suggest the perfect setting to hold your wedding ceremony - in our wedding facility or one of our luxury cabins, in a quaint wedding chapel in the mountains, or in the midst of gorgeous Smoky Mountain scenery for that stunning backdrop.
---
Our Wedding and Reception Venue
Have a larger group? Want a lavish wedding reception with a full buffet or an outdoor cookout? Our 1,500 square feet wedding facility can accommodate parties of up to 90 guests (with DJ and dance floor) or up to 100 guests without a dance floor. The space has a connected outside gazebo.
The wedding and reception facility is available to guests of our cabins for only a flat cleaning fee - this reserves the space for the entire day. It's best to book the facility when you book your cabin - this should be done by the person booking cabins (the wedding planner can't do this).
Remember that each cabin you book comes with our Trip Cash book of Free Tickets and coupons to top attractions in the are - worth over $1,350. There are plenty of fun things to do for your guests while they're here!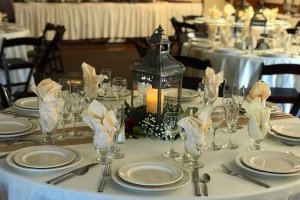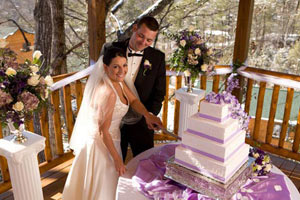 ---
Wedding Reception
Our staff can create a wedding reception to suit any taste and budget, from a simple platter of hot or cold hors d'oeuvres to a grand BBQ cookout. As with everything else, the options are abundant to match the style of your special day.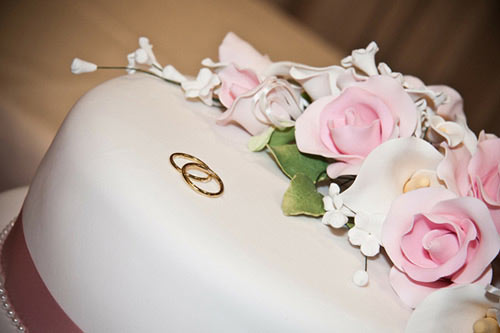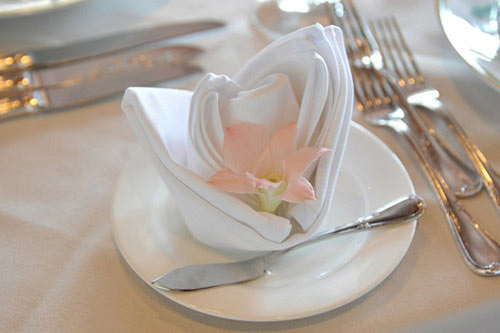 ---
Wedding Chapels
Going to the chapel, gonna get married?
Gatlinburg is second only to Las Vegas in number of wedding chapels.
Our wedding planner can schedule a chapel for you.
See a list of Gatlinburg wedding chapels
Marriage Licenses
No waiting period
No blood test required
Bride & groom must appear in person
Issued by the Sevier Count Clerk.
---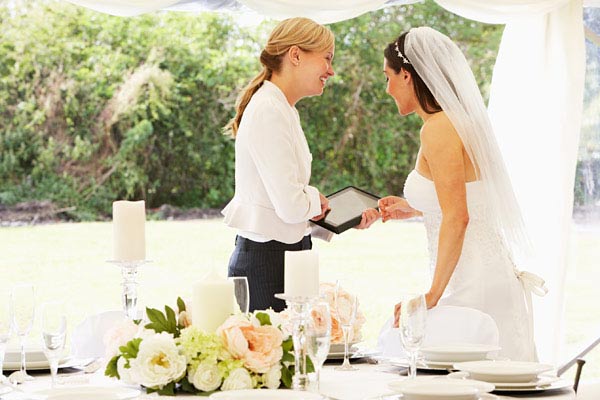 Our Wedding Planners
Skip the stress, let our wedding planners do the work.
Weddings and receptions tailor made to your wishes.
Handles photographers, videographer, catering, décor, florists, music and wedding venues.
Long list of venues for your wedding or reception.
Tailored to fit your budget.
No wedding is too small.