How to Find a Gatlinburg Cabin with Spectacular Views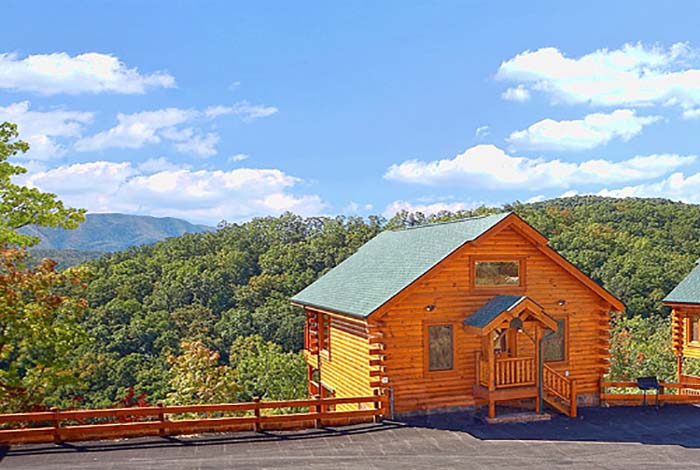 ---
We have many vacation cabins with stunning views of the Smoky Mountains, and the view from each cabin is described in its primary list of features. See below for the selection of our cabins with gorgeous, breathtaking, spectacular views of the mountains.
And read on for our 8-Step Plan to find the vacation cabin in the Smoky Mountains that's perfect or you.
Short version: first decide which things matter the most on your trip, and then go looking for the cabin that fits. And don't worry, there are plenty of cabins, and lots of different choices available.
Start with your best options for times to get away.
Check the annual weather for Gatlinburg & Pigeon Forge.
If you want stunning scenery, as well as your cabin view, note these exceptional sights during the year: the wildflowers are amazing in spring; the synchronous fireflies are a unique experience in June; and the fall colors in October are spectacular.
See our useful list of Events through the year and our guide to the Best Time to Visit.
Do you want to be surrounded by trees as well as have a stunning mountain view from the cabin?
Do you want be in rugged mountain terrain or closer to the towns (and still have the view)?
Mt LeConte is the signature range in view from the Gatlinburg area, but there are other views in other resorts.
How's your vehicle and driving for winding mountain roads? For winter conditions?
Do you want isolation from other cabins, or are you okay with neighbors (cabins are often built along a street, but each one faces the mountains for a separate, private view - and this works well).
Many cabins are gathered in resort groupings, and each resort setting is different, with different amenities - see our descriptions of Resorts to find the location and setting that fits your itinerary during your stay.
Some resorts involve a great scenic drive just entering and leaving the community.
Learning the locations of the principal sights and attractions you want to see will help you choose the location of your cabin.
See our guides to Getting Around the area, and the Shortcuts that can help keep you out of traffic.
There are many incredible scenic drives in the Smoky Mountains.
Check out our guides to Scenic Drives to choose which ones you want to take.
With an itinerary, you can better decide the location of your cabin or resort.
Scenic views from the cabin don't have to end when you venture outside.
Check out the numerous Outdoor Adventures, from strenuous to super-easy, that you could plan, and keep that special mountain feel with every excursion you take from the cabin.
Use the Cabin Find search to select dates for your visit.
Be flexible on dates if you can, for a better range of available cabins.
Ideally, book far in advance for the best options.
But also think about the last-minute discounts to save money.
Or just call us - we love to help. We left this option to the end, but you can move it to the top if you want. Call us anytime and let our knowledgeable front desk staff advise you on the perfect cabin in the Smokies for you with great views. Toll-free phones are open 24/7 at 866-34-SMOKY.
Begin your Smoky Mountain adventure by calling toll free 866-347-6659.
---
1-30 Cabins with Views
Tap on row for more cabin info.