Gatlinburg's renowned Arrowmont School of Arts and Crafts hosts its 2nd annual Legacy Weekend this Thursday through Sunday, April 9-12, 2015.
Legacy Weekend is a mix of celebration and open house, offering a series of workshops and encouraging interaction between the participants and the whole campus community. Part of the proceeds from workshop fees will benefit Friends of the Smokies.
Classes include expert instruction in such media as pottery, fabric, cane, paint and camera, as well as explorations of Arrowmont's own rich history coupled with Appalachian culture and heritage, both onsite and afield in the Smoky Mountains.
Arrowmont's diverse wealth of offerings will be integrated into evening activities also through the weekend, with guest speakers, musical performances, social gatherings, gallery openings and off-campus adventures.
A highlight of Legacy Weekend is the Friday evening Opening Reception for the ongoing display of work by Arrowmont's current artists in residence. Held in the Sandra J. Blain Galleries, the reception invites students, instructors and guests on Friday, April 10, 2015, 7:00 pm to 9:00 pm.
Since 1991, the Arrowmont Artists-in-Residence Program has offered a stipend, accommodation and dedicated studio space to 5 artists in their early career stages, working in different media. Prodigious talent over the years has moved through the annual program.
Work from this year's artists is on display from March 30 through May 9, in an event titled A Naturally Picked Stacked Attraction of Glitz. Legacy Weekend offers an additional focus on this body of work.
Among the artists on display this year is Amy Masters, currently a resident of Gatlinburg. A specialist in textiles and fibers – and play(!) – Amy invited volunteers from the area, weavers and non-weavers alike, to help her create the world's largest rag rug!
Click for more of the story on these Facebook and Blog pages. And here are some pictures from the project.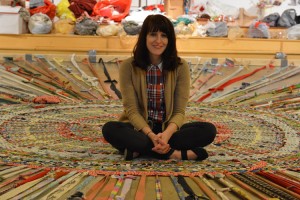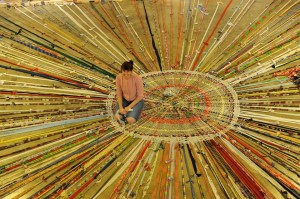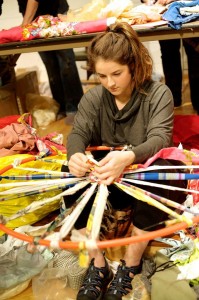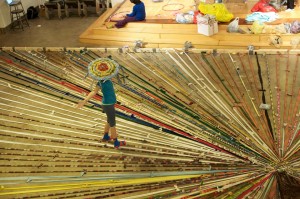 Arrowmont has long been an anchoring institution in Gatlinburg, beginning in 1912 as one of the regional Appalachian settlement schools that made sure this unique culture was not lost, and in fact thrived. A century later, Arrowmont School of Arts and Crafts and its faculty are renowned for visual-arts education.
Students at Arrowmont describe their time there as magical, and life-changing. Situated on Parkway at traffic light #5, the lovely campus and beautiful gallery are an oasis worth stepping into whenever you're in Gatlinburg. Each fall, the school holds its free Fine Arts Festival with all welcome.
Click for more information about Arrowmont and Legacy Weekend.
---
TIP: here's how to find an affordable Gatlinburg cabin, and see all of our cabins in the Smoky Mountains, including our Pigeon Forge cabins and our Wears Valley cabins.