For a different spin on the Christmas music this season, take in the annual Christmas in the Smokies Bluegrass Festival happening at the Smoky Mountain Convention Center in Pigeon Forge, Wednesday through Saturday, December 5-8, 2018.
If you think it's amazing to have a bluegrass festival at Christmas time, what's really amazing is how many stellar performers gather in Pigeon Forge for the event. It's fours days of high energy music and warmth, with a host of talent.
The festival is headlined and organized by award-winning veteran musician Lorraine Jordan and her band Carolina Road. Together they make up a huge group of highly awarded of talent producing a driving sound, virtuoso solos and beautiful harmonies.
Lorraine always puts together a great lineup of performers, and 2018 is no exception, with two dozen acts performing through the 4-day event. Christmas in the Smokies Bluegrass Festival starts its first performance at 5 pm on Wednesday, December 5, and begins at 4 pm on Thursday. Then Friday and Saturday feature non-stop music from 11 am until late at night – with a supper break in between – and Saturday finishes with an all-star jam until around midnight.
Tickets are no longer available online, but there are plenty at the door. There are usually seats available for this show, which tends to fly under a lot of people's radar – but always call ahead to be sure, at 919-779-567 or 865-453-1823.
Check the Christmas in the Smokies Bluegrass 2018 website and Facebook page for details and breaking news, and check the lineup below.
Lorraine Jordan is a Traditional Vocalist of the Year and the acclaimed innovator of "fusion grass" music, which lets country music sound the way it used to be, with a bluegrass feel. For a taste of how this sounds, check out country star John Anderson's rendition of his famous Seminole Wind playing with Country Grass:

Here's the performance schedule for the 2018 Christmas in the Smokies Bluegrass festival.
Wednesday,December 05, 2018
The Churchmen 5PM
Nathan Stanley 6PM
All-Stars of Bluegrass 7PM
Smoky Mountain All Stars 8PM
Jimbo Whaley & Greenbrier 9PM
Thursday,December 06, 2018
Jay Armsworthy & Eastern Tradition 4PM
Williamson Branch 5PM
Ralph Stanley II & Clinch Mountain Boys 6PM
Lorraine Jordan & Carolina Road 7PM
Doyle Lawson & Quicksilver 8PM
Friday,December 07, 2018
Deeper Shade of Blue 11AM
Dean Osborne Band 12PM
Circa Blue 1PM
Garrett Newton Band 2PM
Larry Efaw and BlueGrass Mountaineers 3PM
Supper Break 4PM
Deeper Shade of Blue 5PM
Dean Osborne Band 6PM
Circa Blue 7PM
Garrett Newton Band 8PM
Larry Efaw and BlueGrass Mountaineers 9PM
ETSU Pride Band 10PM
Saturday,December 08, 2018
Wilson Banjo Co. Jams/Workshops 11AM
Suggins Brothers 12PM
Gary Brewer and Kentucky Ramblers 1PM
Constant Change 2PM
Salt and Light 3PM
Supper Break 4PM
Wilson Banjo Co. 5PM
Big Country BlueGrass 6PM
Lorraine Jordan and Carolina Road 7PM
Paul Williams and Victory Trio 8PM
Malpass Brothers 9PM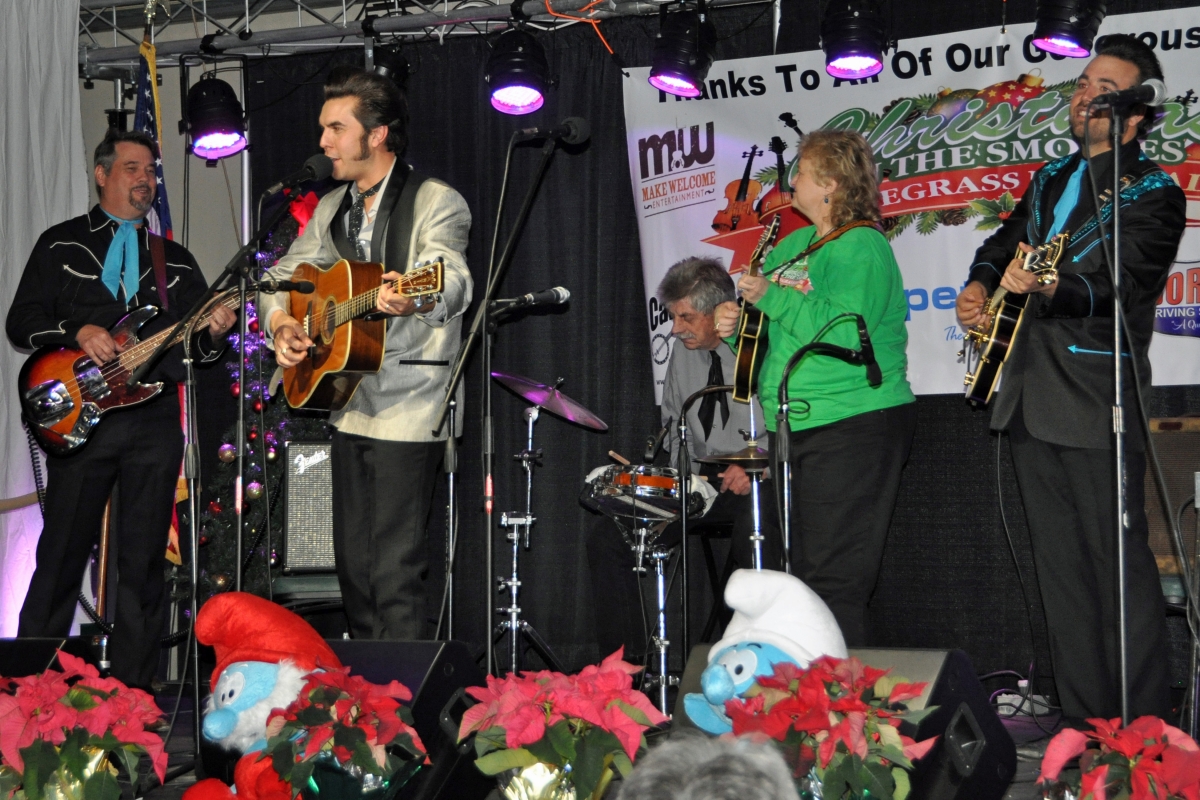 And remember that the key towns in the area are just minutes away from each other, so you can stay wherever suits you, because everything is close to our Gatlinburg cabin rentals, Pigeon Forge cabins, and Wears Valley cabins.