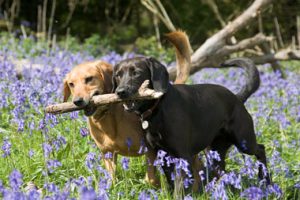 Pigeon Forge has earned its reputation as one of the most hospitable and friendly towns in Tennessee – we have many Pigeon Forge cabins available for accommodation. Families with pets love to stay here, soaking in its mix of a festive attitude and peaceful, pet-friendly attractions.
Drive a short ways southeast of Knoxville and the city life melts away into a whole new world. Pigeon Forge, cupped in the foothills of the Appalachians and nestled against the entrance of the National Park, is a charming and family-friendly town that makes an ideal home base for exploring these mountains. You can also drive south along Highway 441 to Gatlinburg, a scenic and bustling tourist hot spot.
Did you know that the Great Smoky Mountains is the country's most popular National Park? It's true. In fact, in 2015 the Smokies received a record-breaking 10.7 million visitors. Why is it so popular? This protected stretch of the Appalachian Mountains is one of the most picturesque places in the world and also one of the most accessible. In fact, even your pets can enjoy access to these rolling mountains and wild forests.
Great Smoky Mountains National Park offers two pet-accessible hiking trails. The Gatlinburg Trail is a 2-mile path that leads you through towering forests and scenic views along the Little Pigeon River. Alternatively, you can take the Oconaluftee River Trail. This is a short one-way track that leads you through rolling hills and offers spectacular overlooks.
If you're looking for pet-friendly activities closer to your Pigeon Forge cabins, be sure to check out Patriot Park. Here you can get some breathing room from the tourist crowds while taking your pet for a stroll along the Little Pigeon River. Afterwards, stop by the famous and historic Old Mill Square.
Why Choose a Cabin Over a Hotel?
While there is an abundance of accommodation in the Pigeon Forge area, many hotels don't allow pets. However, we welcome these companions by offering a number of pet-friendly services and rooms. We have multiple cabins available where you can bring your companion with you. These range from one to five bedroom cabins, and some even have a backyard area. You will only have to pay a small pet deposit. For more information on our policies, and a list of available cabins, check our page for pet-friendly cabins in Pigeon Forge.
Tips for Traveling Pet Owners
Two weeks before your big vacation, have your pets checked out by a veterinarian to make sure they're up to date on shots and in good health to travel. You'll also want to pick up prescriptions for any medications they need.
If your pet wears a collar, make sure his or her tags have your name and current phone number for both your cell phone and home line.
Be sure to pack any items your pets may need, such as their favorite sleeping crate, a blanket to keep warm at night, and toys or treats.
Secure your animals while traveling so that they don't get startled and bolt when the door opens.
Keep an eye on your pets both during the drive and during their stay. Make sure they're getting enough water and that their eating habits aren't changing. Many animals get nervous at being exposed to a new environment. However, once you settle down in one of our cabins, they will most likely relax and enjoy their surroundings.
Consider keeping your dog on a harness, not a leash. This is often more comfortable for your pet over longer periods.
By the way, if you're taking the family to Dollywood during your stay here, you can leave your pet for the day at the theme park's Doggywood day boarding facility, while you enjoy the park. And here are some of our Best Cabins Near Dollywood.
---
TIP: here's how to find an affordable Gatlinburg cabin, and see all of our cabins n the Smoky Mountains, including our Pigeon Forge cabins and our Wears Valley cabins.