With Valentine's Day nearly upon us, the season of romance begins. And whether you've been married for years or are just falling for each other now, there's no finer place to celebrate Valentine's Day than in the Smoky Mountains.
TIP: Valentine's Day falls on a Tuesday this year. The good news is that in February we have our Half-Price Specials through the 17th – which means either the weekend before or during that week you can celebrate in style at half price! Take advantage for fun and romantic getaway in the Smoky Mountains. Call us anytime at 855 91 SMOKY and see our Specials page for more details.

The magic of the Smokies is the backdrop for all of our luxury vacation cabins. Some are secluded enough to make you feel you're the only ones up there. Others feature views of lushly wooded landscapes, babbling brooks, and rolling foothills. In all directions, you'll enjoy the serene landscape of the Smokies, the fresh mountain air, and the song of birds and wind through the trees.
To make your Valentine's Day getaway truly special this year, we invite you to add a romantic getaway package to the cabin of your choice. Check the 3 and 6 night romantic getaway packages in our Gatlinburg honeymoon cabins page. We have several options to choose from – and you can also create your own romantic getaway!
Choose from a long list of splendid "Romantic Extras" (made-to-order candlelit meals, flower arrangements, spa treatment …) and add tickets to any of the area's finest attractions and entertainment you like! We'll do all the hard work for you.
Welcome to the romantic paradise of the Smoky Mountains, where people come to fall in love, to celebrate love, to propose marriage, to honeymoon, and to return years later to honor their anniversaries and to renew their wedding vows, sometimes with their grinning, grown children.
Welcome to the cabins, chalets and lodges nestled everywhere throughout the trees with stunning views of the Smoky Mountains, snug with fireplaces and outside snows, alive with hot tubs on the decks and heart-shaped Jacuzzis inside.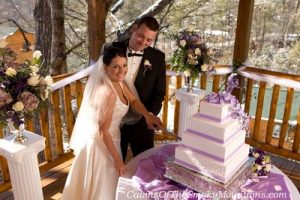 Gatlinburg weddings happen in the third most popular city in the world for people to get married! And the area all around is home to numerous chapels ready for the occasion, all against the backdrop of an impossibly romantic setting made for lifetime memories.
Let's run away and get married! The State of Tennessee requires no waiting time to get a license, and with the mountains involved, Smoky Mountain weddings can be as extravagant or as simple as you choose.
Everything you could want to make your wedding day perfect is here in the Gatlinburg and Pigeon Forge area, from the rustic and modern places that host the magic event to the numerous professionals and local townspeople who supply and service it, dress and decorate it, and record it for posterity.
The cabins are the perfect home away from home to stay in during your romantic visit. Stop by our our Gatlinburg cabin rentals, our Pigeon Forge Cabins or our Wears Valley Cabins pages to see what's available this Valentine's Day.
Coming up with something fun, exciting, and truly romantic on Valentine's Day can be tough. This year, forego the stuffy dinner and lavish gifts. Instead, take some time off and spend it together in one of the most gorgeous places on earth.