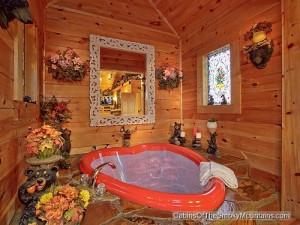 Valentine's Day weekend is very close, and the cozy romantic cabins are fully booked, from long in advance.
Gentlemen have secret plans to ask their ladies certain important questions, and snow is on the ground with spring still just a vision on the horizon, but for the purposes of romance, snuggling in the warm is just as good as dancing in the daisies!
Welcome to the romantic paradise of the Smoky Mountains, where people come to fall in love, to celebrate love, to propose marriage, to honeymoon, and to return years later to honor their anniversaries and to renew their wedding vows, sometimes with their grinning, grown children.
Welcome to the cabins, chalets and lodges nestled everywhere throughout the trees with stunning views of the Smoky Mountains, snug with fireplaces and outside snows, alive with hot tubs on the decks and heart-shaped jacuzzis inside.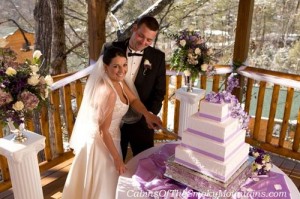 Gatlinburg is the 3rd most popular city in the world for people to get married and the area all around is home to numerous chapels ready for the occasion, all against the backdrop of the Smoky Mountains, an impossibly romantic setting made for lifetime memories.
Let's run away and get married! The State of Tennessee requires no waiting time to get a license, and the mountains are equally perfect for a marriage as extravagant or as simple as you choose.
Everything you could want to make your wedding day perfect is here in the Gatlinburg and Pigeon Forge area, from the rustic and modern places that host the magic event to the numerous professionals and local townspeople who supply and service it, dress and decorate it, and record it for posterity.
People here never get tired of smiling, it seems. And nothing is more heart warming than love, and lovers happy in their love.
So have a loving Valentine's Day this weekend, wherever you are, and may it be here in the Smoky Mountains, and may everything be perfect.