What's more relaxing than a gorgeous view of the Smoky Mountains from your hot tub on the deck of your luxury cabin? Well, how about a massage with that?
How about a massage service that provides cabin-calls? A Mountain View Spa offers services that come to you, to take relaxation to a whole new level.
From one of our rental cabins schedule your service with a skilled therapeutic massage professional. A Mountain View Spa offers you 7 different types of massages to choose from, each lasting at least an hour.

It's always good to get away on vacation and get rid of the stress of daily life. But it's easy to get caught up in a stressful experience just scheduling the vacation. Apply the antidote with therapeutic massage treatment that takes the last drop of stress out of even the vacation effort – and make your next vacation one that truly relaxes, refreshes, and energizes you.
While each massage targets physical distress and relieves tension, the ultimate effect is a relaxed body and mind. You'll escape the year's stresses with a single, relaxing vacation.
With Massage, There's Much More Relaxation to be Had
With A Mountain View Spa services, you can get more than a massage. There are 5 different half-hour facials to choose from, and 3 supporting facial add-ons. Body treatments include body polish, which takes 30 minutes to give your skin a soft, glowing appearance.
When you think of spas, you also think of mud wraps. You can get a mud wrap which detoxifies and softens your skin, and if you choose, you can include aromatherapy as well.
Other relaxing treatment offers include a massage that specifically targets the back, neck, and shoulders. Reflexology uses pressure from fingers to dispel tension and stress throughout your entire body.
And every type of service you choose, aromatherapy is always an option, diffusing sensual essential oils into the air for your personal relaxation.
Romance
Indulge your significant other with one of our Honeymoon or Romance Packages in a romantic getaway cabin – flowers and gift baskets, candlelight dinners, soaking together in the heart-shaped Jacuzzi, snuggling by the fireplace. And then add in the couples services from A Mountain View Spa for the perfect luxury experience – extend any of the massages offered into a side-by-side treatment with two therapists.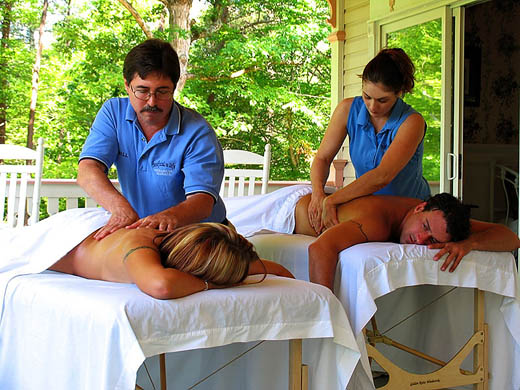 Create Your Own Custom Relaxation Package
You are unique, and you know how you want to relax. So choose your unique cabin experience by checking out our Pigeon Forge cabin rental or Gatlinburg cabin rentals pages – and call us day or night at 855-91-SMOKY and let us help you. And then contact A Mountain View Spa to reserve the massage package that's perfect for you.
Contact Info for Massage in Your Cabin
Beneficial to Life's "A Mountain View Spa"
865.908.2530
www.amountainviewspa.com
Open Mon-Sat 8 AM – 8 PM
Sunday hours vary.
Save
Save
Save