With more than 500 cabins under our management, we have many cabins in resort communities. A resort location offers additional benefits to top off your cabin experience.
The advantage of a resort typically means plenty of parking, well maintained roads (a factor in winter), and resort amenities such as community room, picnic area, and conference center for meetings, family celebrations, weddings and other such occasions. And usually a swimming pool in season – and we know what that's for!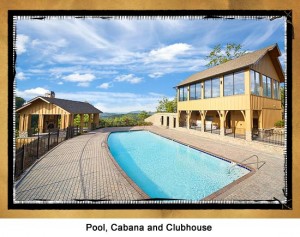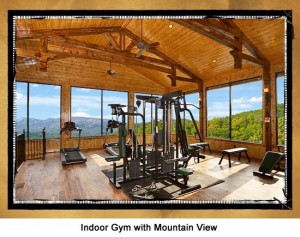 Recently we featured some cabins that have their own indoor swimming pool, the absolute height of fun and luxury – see our blog, Cabins With Indoor Swimming Pools. Cabins with indoor pools are pretty rare here in the mountains, but there's more than one way to get wet – plenty of the resorts have a swimming pool. Many of the cabins are in their own resort – the list of amenities in each cabin's web page will tell you if there's a resort swimming pool available.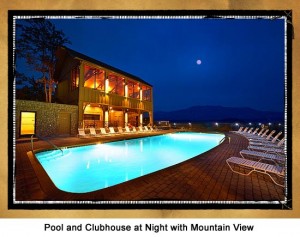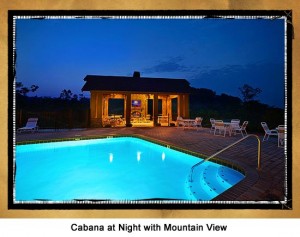 While some guests never want to leave the private world of their luxury cabin, others enjoy the community features of a resort. Business retreats and family reunions are the perfect example of the need for some larger gathering space.
Here's a list of the resorts with cabins that we currently manage. Not all cabins have access to the resort amenities, by the way – so again it's important to check the listed amenities on each cabin's individual website page.
TIP: If you don't find answers on the website, our phones are open 24 hours a day, year round. Call us anytime at 855-91-SMOKY and let us advise you. Our friendly front desk staff are always happy to suggest the perfect cabin for your stay.
Some Cabin Resorts in the Smoky Mountains
Legacy Mountain Resort is situated a few miles east of Pigeon Forge, with spectacular views of the Smoky Mountains. The resort has a swimming pool (in season), a fitness center and sauna, and a clubhouse – images here are from this resort. Some resorts are nestled in the woods with parkland surroundings, and some, like Legacy Mountain, are positioned for the mountain views.
Closer to Gatlinburg, Black Bear Falls Resort is a select area with individually decorated cabins, all with wonderful mountain views. The resort amenities include a clubhouse and various patio and BBQ areas, as well as meeting space and a heated pool in season. One of our featured cabins, Blue Mist View, is in this resort.
Gatlinburg Falls Resort of course is the one closest to our heart, the resort we started in the Smoky Mountains, and voted by Southern Living Magazine as the Best Family Resort in the Smokies. With wide streets and a charming village feel, the resort offers community amenities that include a heated swimming pool, and our greatly popular wedding facility.
For more help navigating through all the choices available to you in choosing your perfect cabin in the Smoky Mountains, remember Tip #1 is call us at 855-91-SMOKY.
---
TIP: here's how to find an affordable Gatlinburg cabin, and see all of our cabins n the Smoky Mountains, including our Pigeon Forge cabins and our Wears Valley cabins.