Riversong Ridge is a 3-bedroom luxury cabin combining the best of both worlds in a fully rustic outside with a modern style of living on the inside.
Sitting in its own private lot in the Smoky Mountains, this retreat cabin offers gorgeous views of the surrounding mountains as well as its own self-contained getaway ambience.

Carefully designed into the sheltering terrain, this great cabin has an ancillary covered gazebo which houses the outdoor hot tub, surrounded by nature yet still in private seclusion.
Spacious decks on two sides of Riversong Ridge's upper story offer tranquil viewing platforms to sit or rock your rocking chair, gaze and ponder, and maybe even just drift for a spell, with the rustle and patter of nature in the breeze all around, and river life a few hundred paces away.
Inside this 3-bedroom, 2,300 square-foot cabin, the open-plan living, dining and game areas offer a wealth of ways to relax, have fun, and entertain.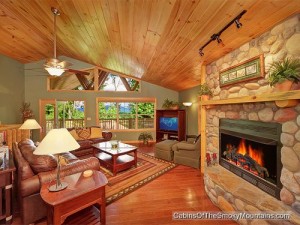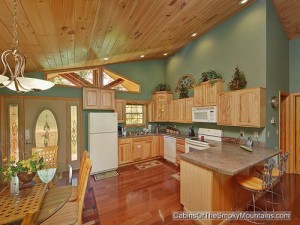 From overstuffed couches, gas fireplaces and multiple flat-screen TVs, to the arcade game system and the pool table, the sense of enjoyment in this space never ends.
This log cabin has smooth wall finishes and contemporary design, with rugged furniture accents offset by carpeting in the bedrooms and modern bathroom facilities, from the walk-in surround shower to the jacuzzi in the master suite.
Offering three full bathrooms and bedrooms, with an additional 2 half-bathrooms, and dining room seating for eight, Riversong Ridge will sleep up to eight people in comfort.
There is ample parking, and downtown Gatlinburg with all its many wonders is just five minutes away, if some of the crew want to jump in a car and run to town. And even in town of course, the great Smoky Mountains never stop being all around, wherever one turns.
The sense of nature becomes seamless, wherever one goes, from the myriad entertainments of Gatlinburg and Pigeon Forge, to the roads and trails through Great Smoky Mountains National Park, to the coming home, back to Riversong Ridge, with its great tranquil pleasure of just being here.
Click here to check availability and book Riversong Ridge  for your next trip!
Cabin Tips
The cost savings of sharing with other people makes it fun to grab friends or family and bring them along on your trip. Splitting the costs of a three-bedroom among two couples can often come out about the same as renting your own 1-bedroom.
This is especially true of the short-notice special offers such as half-price weekends, that often apply only to the 3-bedroom and bigger cabins. These deals can quickly bring the cost of a larger cabin down close to that of a one-bedroom cabin.
(Be sure to read our tips for finding your perfect cabin, and also for taking advantage of special offers.)
---
Be sure to see all of our cabins in the Smoky Mountains: Gatlinburg cabin rentals, Pigeon Forge cabins and Wears Valley cabins.