Valley View is a 1-bedroom luxury rental cabin in the Smoky Mountains, perched on a ridge overlooking Wears Valley, scenic gateway to Great Smoky Mountains National Park. The view consists of the signature gentle folds and abundant greenery of these ancient mountains, all the way to the horizon.
Valley View is a 2-story cabin with 2 full bathrooms, one on each level. The single master bedroom has its own en-suite jacuzzi, while the queen sleeper bed upstairs means that four adults or a family can very comfortably share this spacious cabin.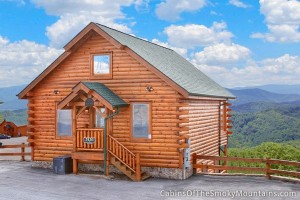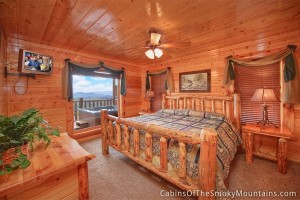 Many people have discovered how affordable this kind of cabin luxury can be, especially when you can split costs in ways that a cramped hotel simply doesn't allow.
The cabin has a hot tub on one of the two decks, with views that make it easy to soak and gaze the day and night away. You CAN stay dry too, in one of the several rocking chairs. Inside, games get the circulation moving again, from the pool table to air hockey, to the video games.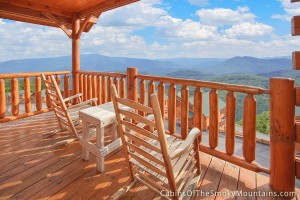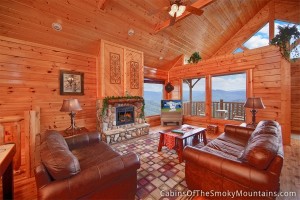 Living is luxury, drifting from the full kitchen with bar stools to the dining area, or overstuffed living area, to the fireplace or by one of the flat-screen TVs – or even a quiet nook using the cabin WiFi to catch up online.
All of this can only happen, of course, if you can take your eyes away from the view, and the light that pours through the windows, and the constant urge to go outside in the mountain air.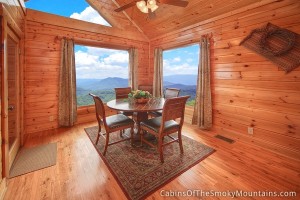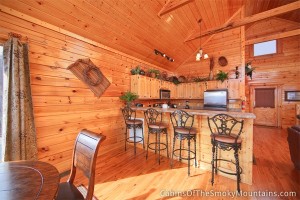 Valley View is located in the Preserve Resort, a highly regarded small resort on a commanding ridge known for its beautiful scenery and surroundings. The advantage of a resort lies in the amenities available to all cabins, such as the seasonal pool and outdoor hot tub, and the fitness center with sauna and workout facility.
The Preserve also offers an indoor group meeting space combined with an outdoor covered pavilion and fireplace, perfect for gatherings and celebrations from business deals to family reunions to picnics to weddings.
Only a few minutes from Pigeon Forge, and a few more to Gatlinburg, Valley View cabin is available year round, and is often booked months in advance. But there are gaps in every cabin's calendar, and Valley View does come up for some of the last-minute specials that can drastically slash the cost by as much as half.
[TIP – be sure to check our articles on how to choose your perfect cabin, and also how to take advantage of the late-breaking specials.]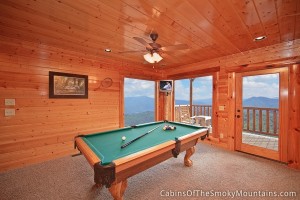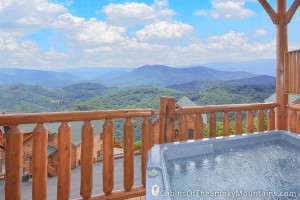 Valley View is owned by Terry Brown, who recently said of the cabin: "I am very proud of it, we just had it re-stained for the second time in four years that I have owned it. We installed new flat screen TVs and new carpet…We try very hard to keep our cabins nice." Testimonials from guests agree.
So can you really have the best of all worlds? That's a bold claim, but Valley View proves you can!
Click here to check availability and book Valley View for your next trip!
Cabins of the Smoky Mountains manages over 500 cabins. If Valley View is not available during your planned stay, we can find you an equivalent cabin that is. Call us anytime at 855-91-SMOKY, the phones are open 24/7!
---
TIP: here's how to find an affordable Gatlinburg cabin, and see all of our cabins n the Smoky Mountains, including our Pigeon Forge cabins and our Wears Valley cabins.