Waldens Creek Stables is one of the best horse riding stables in the Gatlinburg and Pigeon Forge area. A winner of TripAdvisor's Certificate of Excellence, the riding stables offers 500 acres of beautiful scenery, fun guides who even sing, bonfire suppers, carriage rides and even weddings.
The guided horse-riding experience at Waldens Creek is so well managed that even if you've never been on a horse before, you can discover what every rider knows, that the best scenic view of all is from the saddle – it's better than your car, and less work!
To put YOU in the saddle, Cabins of the Smoky Mountains offers a Free Adult Ticket to Waldens Creek Stables as part of our
Trip Cash book of free coupons
worth over $400.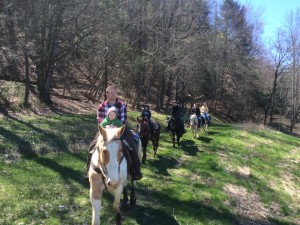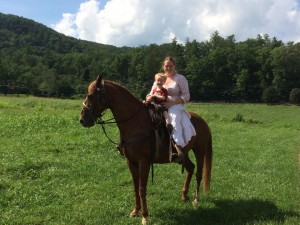 The horses of Waldens Creek Stables – and there are lots of them – seem to enjoy their lives, ambling through the Smoky Mountains carrying dudes and city slickers along, let's face it, some pretty easy trails, with lots to see and maybe even a spot of grazing in the wild. They're well taken care of, with good accommodations and food, and loving treatment by those singing cowboys and cowgirls.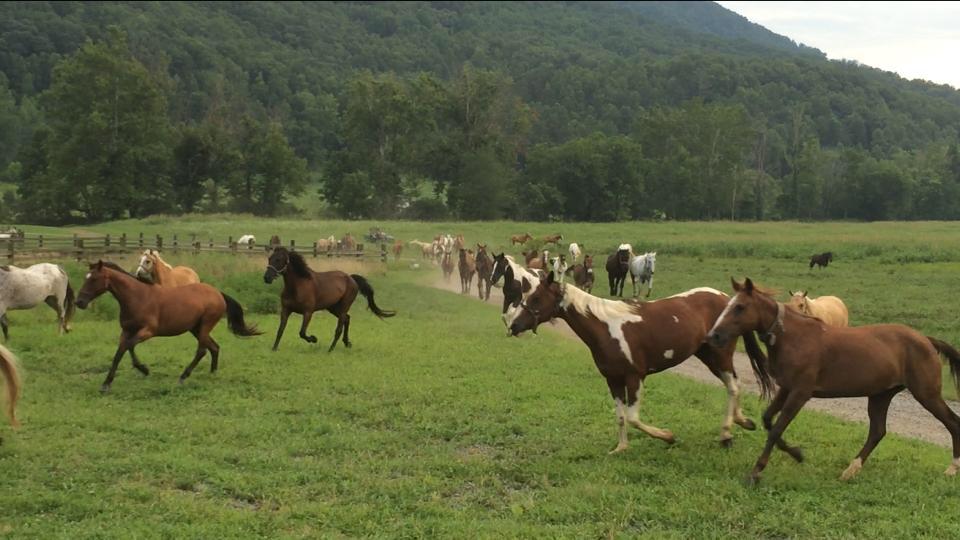 The Smoky Mountains of Tennessee are remarkable for the sheer variety of terrain they produce in all their folds and habitats. This gives a supreme choice of trail riding, through mountains, valleys and streams. And with more than 100 horses to choose from, there's a horse for every rider, of any age or experience level, so the whole family can enjoy a visit to the stables.
The skill level of each rider is something that the Stables evaluates very carefully, and the hugely people-friendly guides understand completely how nervous someone might be who's never been on a horse. But the Stables can even accommodate people with special needs, and newcomers quickly get over their first-time apprehension when the magic of the saddle takes over as simply the easiest and most comfortable way to get out in the mountain scenery.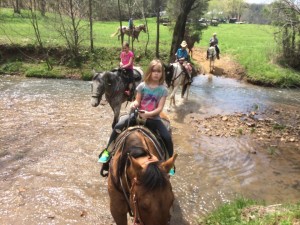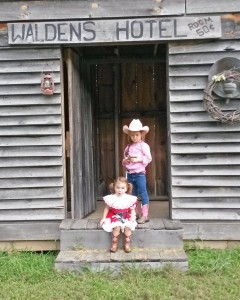 Horseback trips can range from very short to 2-3 hour rides with a rest and lunch break in the middle. Waldens Creek Stables has trails that meander through streams and trees, across wooden bridges and past old cabins and even a moonshine still, while others offer ridge riding in the foothills of the mountains. The stables also offers overnight camping trips, for an experience of the night-time Smoky Mountains wildlife that few people get to see or hear.
Waldens Creek Stables is located west of Pigeon Forge in the quiet and breathtakingly scenic Wears Valley. It's a big ranch worth visiting just for the entertainment value, with lots of activities. There's a western wear store to browse through, and good food to eat. There are hayrides and bonfire suppers in the summer evenings. And of course there are fast-draw showoffs and gunfight shoot-outs, as you would expect.
From the ranch you can take a carriage ride if you don't feel like mounting a steed, or watch the horse training from an observation deck. You can go fishing. Youngsters can take a pony ride. And everyone gets to pet the horses. And if that carriage ride was a romantic event – and how could it not be? – you can even get married at the ranch, young fella, if you've finally roped the cowgirl of your dreams.
Almost everything at Waldens Creek Stables is arranged by reservation, so be sure to study the website and call ahead. The ranch is located less than 10 miles outside of Pigeon Forge to the west, taking Waldens Creek Road off of Wears Valley Road.
Waldens Creek Riding Stables
Phone: 865-429-0443
www.WaldenCreekStables.com
Open 7 days a week. For all ages.
This Free Coupon to Waldens Creek Stables is just one of many Free Tickets that Cabins of the Smoky Mountains guests receive in our
Trip Cash book of free coupons
worth over $400.
Save
Save