Gatlinburg Cabins with Private Indoor Pools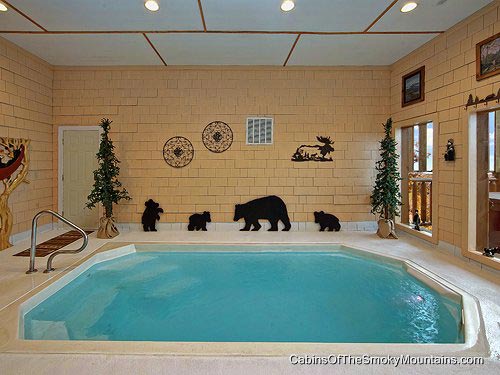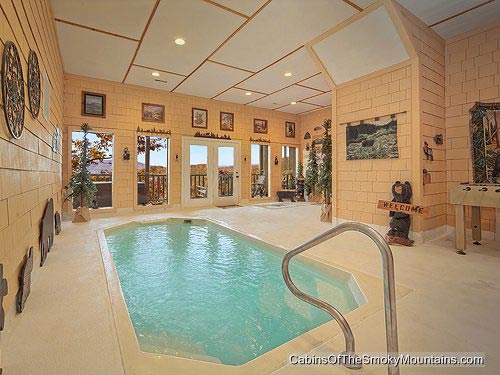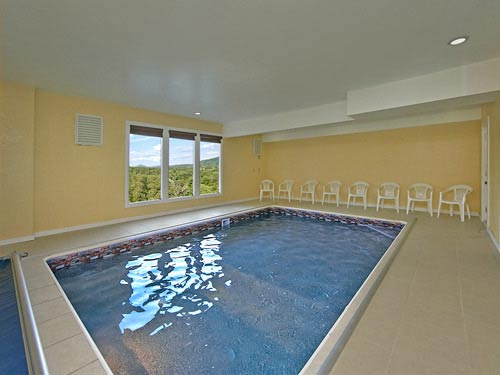 Click Here to see our Cabins with Swimming Pools!!!
Have you ever taken a vacation to somewhere really amazing, and all the kids want to do is play in the swimming pool? We know how that is.
Gatlinburg is a great destination, with everything from spectacular nature in the Great Smoky Mountain National Park, to thrilling theme parks in Pigeon Forge. But it's also fun for your family to play at their rental cabin.
Fortunately we have a great selection of cabins with private swimming pools. Some cabins even have indoor pools! You get all the fun of a swimming pool, all to yourself, and with none of the maintenance.
With amenities like swimming pools, outdoor hot tubs, barbeque grills, game rooms with pool tables and arcade games, and TV/media rooms, our cabins truly are a vacation destination of their own. Spend the morning splashing around in your cabin's pool, then spend the afternoon exploring all that Gatlinburg and the Smoky Mountains.
Can't find a cabin with a private pool? Many of our cabins have an on-site resort pool. Check our cabin details to see if a cabin has access to a resort swimming pool.
Cabins with Pools
| Cabin Name | General location | Rate Range | BR | Sleeps | Bath | Hot Tub | Jacuzzi - Jetted Shower | Games | View |
| --- | --- | --- | --- | --- | --- | --- | --- | --- | --- |
| Pools Rush Inn | Gatlinburg | 200.00 - 650.00 | 1 | 4 | 1.5 | 1 | 1 - 0 | Pool Table, Indoor Swimming Pool | Secluded, Private Wooded Views |
| I Can See For Miles | Gatlinburg | 85.00 - 240.00 | 1 | 4 | 1 | 0 | 0 - 0 | Indoor Swimming Pool | Breathtaking Views of The Smokies |
| National Park Panorama | Gatlinburg | 140.00 - 360.00 | 1 | 4 | 1 | 0 | 0 - 0 | Indoor Swimming Pool, Indoor Sauna, Air Hockey, Netflix Instant Streaming Movies, Play Ground for Kids , Outdoor Basketball Goal | Breathtaking Views of the Smokies |
| Absolutely Fabulous | Pigeon Forge | 140.00 - 360.00 | 1 | 6 | 1.5 | 1 | 1 - 0 | Pool Table, Air Hockey, Indoor Swimming Pool, Multicade Arcade Gaming System, Outdoor Private Swimming Pool , Play Ground for Kids , Outdoor Putting Green | Breathtaking Views of the Smokies |
| Wet N' Wild | Wears Valley | 200.00 - 490.00 | 1 | 4 | 1.5 | 1 | 1 - 0 | Pool Table, Foosball, Indoor Swimming Pool, Indoor Sauna | Breathtaking Views of the Smokies |
| Poolin Around | Pigeon Forge | 200.00 - 490.00 | 1 | 6 | 2 | 1 | 0 - 0 | Air Hockey, MsPacMan, DKong, Galaga, +57, Indoor Swimming Pool | Gorgeous Views of the Mountains |
| Rustic Splash | Pigeon Forge | 200.00 - 490.00 | 1 | 6 | 1.5 | 1 | 1 - 0 | Foosball, Air Hockey, Indoor Swimming Pool, Free Netflix Instant Streaming Movies | Lush, Wooded Park-Style Views |
| The Watering Hole | Pigeon Forge | 200.00 - 650.00 | 1 | 6 | 2.5 | 1 | 1 - 0 | Pool Table, MsPacMan, DKong, Galaga, +57, Indoor Swimming Pool, Netflix Instant Streaming Movies | Secluded, Private Wooded Views |
| Aqua Paradise | Pigeon Forge | 225.00 - 715.00 | 2 | 10 | 3 | 1 | 0 - 0 | Pool Table, MsPacMan, DKong, Galaga, +57, Indoor Swimming Pool, Indoor Sauna, Free Netflix Instant Streaming Movies | Gorgeous Views of the Mountains |
| National Park Views | Gatlinburg | 130.00 - 360.00 | 2 | 4 | 1 | 1 | 0 - 0 | Indoor Swimming Pool, Indoor Sauna, Netflix Instant Streaming Movies, Play Ground for Kids , Outdoor Basketball Goal | Breathtaking Views of the Smokies |
| Enchanted Sunsets | Wears Valley | 150.00 - 480.00 | 2 | 8 | 2 | 1 | 1 - 0 | Pool Table, Foosball, MsPacMan, DKong, Galaga, +57, Indoor Swimming Pool, Netflix Instant Streaming Movies | Breathtaking Views of the Smokies |
| It's A Waterful Life | Gatlinburg | 225.00 - 715.00 | 2 | 6 | 3 | 1 | 1 - 0 | Pool Table, MsPacMan, DKong, Galaga, +57, Indoor Swimming Pool, Outdoor Putting Green | Gorgeous Views of the Mountains |
| National Park Sunsets | Gatlinburg | 150.00 - 480.00 | 2 | 4 | 2 | 1 | 0 - 0 | Indoor Swimming Pool, Indoor Sauna, Air Hockey, Netflix Instant Streaming Movies, Play Ground for Kids , Outdoor Basketball Goal | Breathtaking Views of the Smokies |
| Amazing Views | Gatlinburg | 310.00 - 910.00 | 3 | 10 | 4 | 1 | 0 - 0 | Pool Table, Foosball, Air Hockey, Ping Pong, MsPacMan, DKong, Galaga, +57, Indoor Swimming Pool, High Speed Internet and Wifi, Batman Arcade Game, Buck Hunter HD, Super Cars Raw Thrills Racing Simulator | Spectacular Views of Mount Leconte |
| Smoky Mountain Splash | Pigeon Forge | 235.00 - 725.00 | 3 | 10 | 3 | 1 | 1 - 0 | Indoor Swimming Pool, Air Hockey, Foosball | Breathtaking Views of the Smokies |
| Smoky Mountain Waters | Pigeon Forge | 235.00 - 725.00 | 3 | 12 | 4 | 1 | 1 - 0 | Pool Table, MsPacMan, DKong, Galaga, +57, Home Theatre with Sofa Seating, Indoor Swimming Pool | Beautiful, Serene Resort Views |
| It's Got It All | Wears Valley | 395.00 - 1165.00 | 4 | 10 | 4.5 | 1 | 1 - 0 | Pool Table, Home Theater, In-Cabin Hi-Speed Internet, Indoor Swimming Pool, Game Table w/Chess and Backgammon | Breathtaking Views of the Smokies |
| Mountain Pool and Views | Pigeon Forge | 292.00 - 857.00 | 4 | 14 | 4 | 1 | 1 - 0 | MsPacMan, DKong, Galaga, +57, Indoor Swimming Pool, Home Theater, Hot Tub Deck TV, Home Theater with Theater Seating, Outdoor Private Swimming Pool | Breathtaking Views of the Smokies |
| Kings Mountain Lodge | Pigeon Forge | 395.00 - 1165.00 | 4 | 11 | 4.5 | 1 | 0 - 0 | Pool Table, MsPacMan, DKong, Galaga, +57, Indoor Swimming Pool, Home Theater with Theater Seating | Gorgeous Views of the Mountains |
| Million Dollar View | Wears Valley | 295.00 - 900.00 | 4 | 14 | 5 | 1 | 1 - 0 | Pool Table, Foosball, Air Hockey, MsPacMan, Galaga, Home Theater, Xbox 360, Indoor Swimming Pool, Indoor Sauna, Area 51/Maximum Force Shooting Game | Gorgeous Views of the Mountains |
| As Good As It Gets | Wears Valley | 285.00 - 975.00 | 5 | 26 | 5 | 1 | 1 - 0 | Pool Table, Home Theater, Home Theatre with Sofa Seating, Indoor Swimming Pool, Multicade Donkey Kong, Frogger +58, Poker Card Table | Spectacular Views of Mount Leconte |
| Hawk's Nest | Pigeon Forge | 280.00 - 975.00 | 6 | 18 | 3.5 | 1 | 1 - 0 | Pool Table, Golden Tee, Indoor Swimming Pool, Multicade Arcade Gaming System | Gorgeous Views of the Smoky Mountains |
| Splash Mountain | Wears Valley | 485.00 - 1930.00 | 7 | 24 | 8.5 | 1 | 6 - 0 | Pool Table, Foosball, Air Hockey, MsPacMan, DKong, Galaga, +57, In-Cabin Hi-Speed Internet, Buck Hunter, Indoor Swimming Pool, Electronic Darts, Fast and The Furious Driving Simulator | Breathtaking Views of the Mountains |