Gatlinburg Wedding Chapels
There are many ways and places to get married in the Smoky Mountains. Be sure to see our informational pages on How to Get Married in Tennessee as well as our Wedding Resources page. And remember we offer our own wedding facility and resort amenities for you and your family and guests, conveniently close to your luxury cabin.
Here is a selection of wedding chapels and services to help you make that special day perfect.
Little Log Wedding Chapel
We highly recommend this Gatlinburg wedding chapel – a perfect match for marriage while you stay in one of our Gatlinburg or Pigeon Forge cabin rentals. We're impressed with the quality and care that the owners and employees take with each wedding at the Little Log Wedding Chapel.
An ordained minister will tailor your ceremony to your needs, while your wedding will take place on beautiful grounds with rich landscaping, in a chapel designed to honor Appalachian history with the feel of a 100 years ago.
Overhead log beams are exposed to emphasize the solid log construction, while the wooden floor is set with an emerald-green center aisle that leads to the altar.
The chapel accommodates about 35 of your family and friends for the ceremony. The Little Log Wedding Chapel offers a variety of packages to suit your vision of your perfect wedding day in the Smoky Mountains.
For more information, see the web site at www.littlelogchapel.com and call (865) 436-8979 (toll free at 1-800-554-1451). The Little Log Wedding Chapel is located conveniently near our Gatlinburg Falls Resort on Highway 321 in Gatlinburg.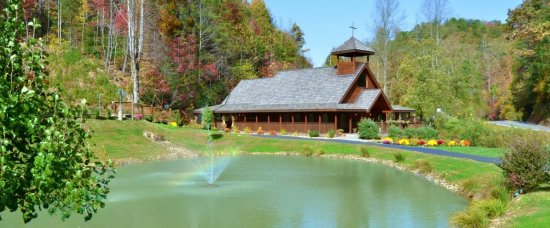 Wedding Bell Chapel
Wedding Bell Chapel in Pigeon Forge, close to Dollywood, has been awarded Best of Pigeon Forge. The chapel, built of wood and stone and bordered by grapevine, speaks of rustic charm while inside a durable elegance emanates from beautiful stained windows, crystal chandelier and oriental rugs.
The chapel holds no more than 20 of your family and guests, as does the peaceful garden where the exchange of vows can also be held, amid vibrant backgrounds bursting with color. Packages include renewal ceremony, candlelight,
Wedding Bell Chapel with its quiet charm holds close the solemnity of the occasion…and yet, the Chapel hasn't lost its sense of fun. It also offers a drive-through service, for a self-contained wedding celebration by those couples with places to go and the wheels to make it happen.
They call it the "Drive Thru I Do" and they hand out a free "Just Married" or "Just Remarried" sign for the mobile newlyweds. Details on the web site at www.weddingbellchapel.com and call 765-716-1349.