There's plenty of Smoky Mountain spirit to be found in Alewine Pottery of Gatlinburg, Tennessee. This much loved, family-run shop knows how to roll out the welcome mat and  provide friendly, individual service.
The Alewine family plies its visitors with free complimentary popcorn, coffee and apples, provide rocking chairs and a checkers table, with live banjo music just outside.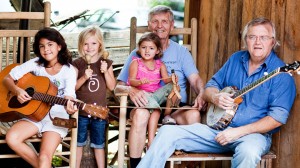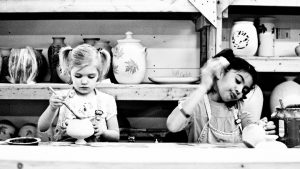 Visitors are invited to observe the live action in the workshop, where they can watch how the rustic, one-of-a-kind pottery is being made, from dull lumps of clay to the finished, refined technicolor product. The multiple generations of the Alewine family serve the many roles of the pottery, from playing music to fashioning clay on the wheel.
Alewine pottery is stacked wall to wall with its astounding array of unique offerings – dinnerware, bakeware, mixing bowls, mugs, vases, candle holders, oil and electric lamps. All of the pieces are beautiful and clearly made from a great love of the craft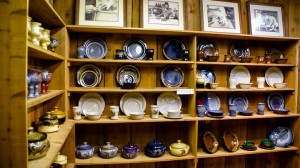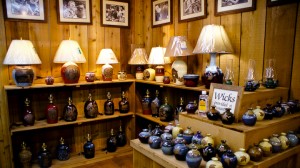 No two pieces exactly match and each is original. The store offers a tremendous selection of crockery, presenting a wonderful diversity of colors, hues and designs, all within a lovely ambiance warmed even more by lively conversation with the staff.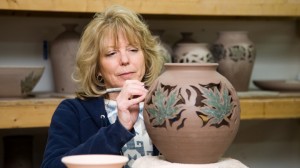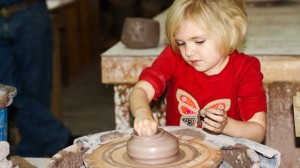 Alewine Pottery is TripAdvisor's #1 Gatlinburg shopping venue, not to be missed if you are touring the town's famous Arts and Crafts Community Trail.
Founder Robert Alewine discovered his passion for pottery-making in the early 1970s. He honed his clay-fashioning skills with renowned artists Bob Munro, Charles Counts and Lewis Snyder. He married life and business partner Connie, and eventually launched the business in the spiritual heart of Gatlinburg.
Alewine Pottery has continually innovated, developing new multi-process glaze techniques and using real Smoky Mountains leaves to create its signature "leaf impression" products. These products are also available at a hidden gem in Gatlinburg called Whole Earth Grocery, a great place for a healthy lunch. So whether you're staying in one of our Gatlinburg cabins, or Pigeon Forge cabins – or further out of town in one of our Wears Valley cabins – you're not going to be very far at all from some of the best pottery you can find anywhere.
The result of Robert and Connie Alewine's hard work and family dedication to the craft? The kind of Smoky Mountain souvenir you want to take home. Or give away to your friends. Or simply cherish for years to come. At Alewine Pottery you are bound to find something you love, at just the right price, in exchange for a wonderful time.
Alewine Pottery
623 Glades Road
Gatlinburg, Tennessee 37738
Tel: (865) 430-7828
www.alewinepottery.net