One of the premier hiking trails in Great Smoky Mountains National Park is Alum Cave Trail. This popular trail features dramatic views and unique natural features, and culminates in a vista at Alum Cave Bluffs that will give you memories for life, and will leave you wanting to return.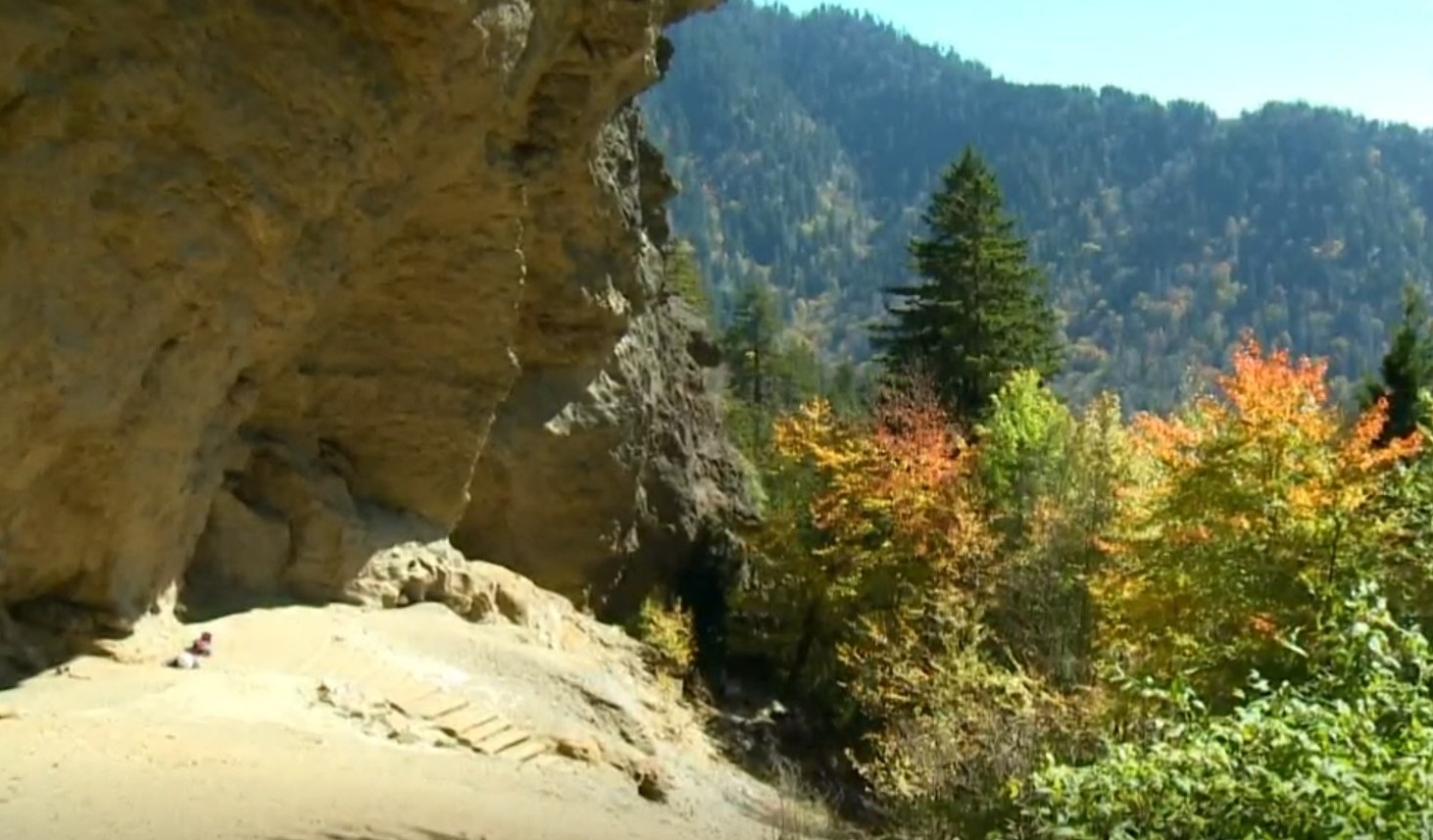 Enjoy a challenging and rewarding hike
The trail to Alum Cave Bluffs is a moderately difficult hike that stretches approximately 4.6 miles round trip (2.3 miles each way). It does feature some difficult terrain and gains over 1,200 feet in elevation on a relatively short way out, and gets more challenging as you head up the mountain. While most hikers should be able to complete it, you should make sure everyone in your party is prepared for more than a casual woodland stroll.
That being said, most visitors find the trail well worth the effort, as long as you are physically capable of hiking it safely. The trail is steep in spots and often closely hugs the ridge of the mountain, offering hikers stunning views of the lush woodlands and creek below. As you ascend, you'll get to see aspects of the park that you can't view from any other vantage point. Even experienced mountain hikers have been known to be awed by some of the scenery on the voyage to Alum Cave Bluffs.
Spend some time at various natural landmarks during your journey
It's definitely not all about the destination on the Alum Cave Trail. During the trek to Alum Cave Bluffs, you'll pass by several unique geological features that are worth a stop in their own right. For instance, you will ascend Arch Rock, a beautiful feature carved by nature out of black slate that froze and thawed over time. You pass this by means of a set of steep rock stairs and cable handrails. At the heath bald known as Inspiration Point, you can gaze on the surrounding mountains from a height of approximately 4,700 feet and take pictures of the amazing panorama before you. When the weather is amenable, you may be able to spot the "Eye of the Needle" from this point, a small (from this perspective) hole in a rock near the highest part of Little Duck Hawk Ridge.
Savor the unique views of Alum Cave Bluffs
Just so there's no confusion, Alum Cave Bluffs isn't exactly a "cave" per se, but that doesn't make it any less beautiful to look at. The massive black slate bluff hangs 80 feet above the valley below, and makes for a perfect spot to stop, rest, and soak up the sun on clear days.In case that doesn't sound impressive, the place is BIG – very hard to get in a single photograph – and well worth the hike.
Alum Cave Bluffs is so named because the structure somewhat resembles the opening of a cave, and deposits of the chemical compound alum were discovered in the walls. Once you reach Alum Cave Bluffs you can retrace your steps to return to the parking area, or you can continue on an additional trail leading to Mount LeConte – but be warned that the trail gets steeper and more challenging from here.
Plan your hike accordingly
The hike to Alum Cave Bluffs is not overly difficult, but you should take some simple precautions. First make sure you have appropriate trail footwear, especially if it has rained recently because the rocks on the trail can get slippery. Because of the elevation changes, you may want to bring an extra layer when hiking in the shoulder seasons. As always, normal day hiking protocols such as bringing water, snacks, and a trail map are recommended.
The Alum Cave Bluffs Trail is one of the more popular hikes in the national park, which means it can get crowded during busy times. If you want to beat the crowds, it's usually best to set out earlier in the morning since the trail gets more populated as the day goes on.
And actually Alum Cave Trail does not culminate in the Bluffs. It's one of the five trails leading to Mt. LeConte, and is also the shortest trail to the summit – although perhaps not the easiest. Check that link to our guide to see the options for the trek to the LeConte summit.