Have 1.4 Million Gallons of Fun at Ripley's Aquarium in Gatlinburg
Get a Ticket For $1 to Ripley's Aquarium of the Smokies – or any other Ripley's attraction – plus over $700 in coupons to other attractions, when you book a cabin! Call us toll free at

866 34 SMOKY

.
Ripley's Aquarium in Gatlinburg, Tennessee, is not just any aquarium.  In fact, it's been voted the #1 aquarium in America by TripAdvisor.  You and your family get to experience the mystery and adventure of the seven seas.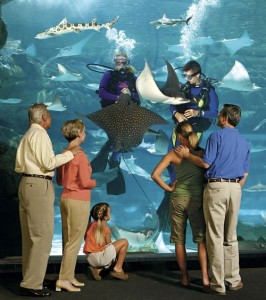 You can find all the creatures you'd expect, like penguins, stingrays, and sharks, amid the coral reefs.  But you can also experience awe-inspiring adventures like the many winding underwater tunnels that let you visit sea creatures up close and personal.
The food is delicious, but don't get so distracted by it that you don't check out all the aquarium has to offer.
What You Can Expect to See At The Aquarium
Explore the lush, unique and beautiful worlds of the Tropical Rainforest, Ocean Realm, Coral Reef, and Gallery of the Seas, and the Best Shark Exhibit in the Most Spectacular Underwater Tunnel in Shark Lagoon.
Enjoy entertaining dive and feeding shows in Coral Reef, Stingray Bay and Penguin Playhouse. 
Pet horseshoe crabs and stingrays in the Discovery Center and Touch-A-Ray Bay. 
Enjoy playful penguins swimming, pop up on the penguins' private beach and get nose-to-beak in Penguin Playhouse, voted by USA Today Travel 10 Best List as one of the best places to see penguins in the world!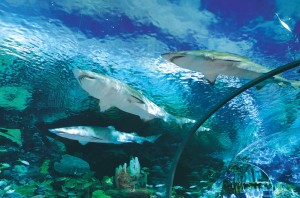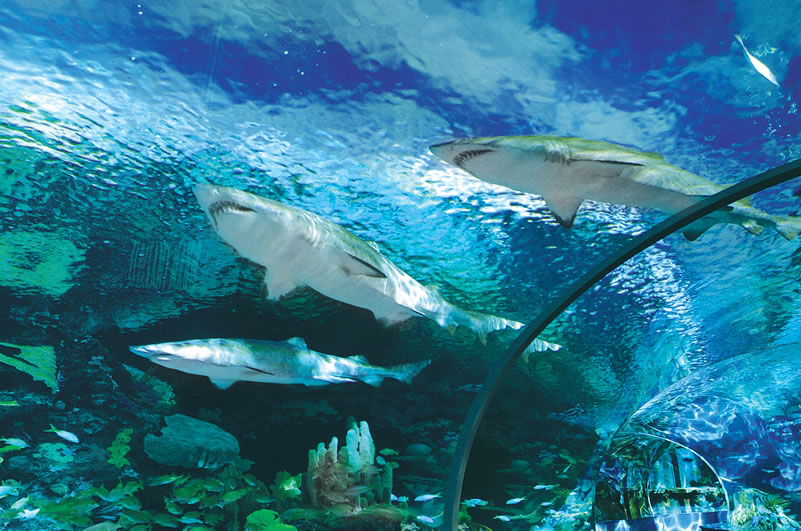 Want a Unique Experience? Experience Sleeping With the Sharks, Behind the Scenes Tours, Educational Programs, Splashing With the Stingrays, Penguin Encounter and Painting programs! Fun-Filled family experience and MUCH, MUCH MORE!
If you're brave enough, make sure you check out the deadly but amazing Gallery of the Seas exhibit.  When you complete that adventure, relax by petting live stingrays in Stingray Bay.  They glide by in the shallow waters, but don't worry – petting stingrays is completely safe and harmless.
Besides having fun, you learn a lot too.  Instructors stand by at each exhibit, answering all of your questions and giving you astonishing details about the realities of marine life.
Have you ever spent the night at an aquarium?  Sounds impossible, but you can at Ripley's Aquarium of the Smokies.  Families can camp in Penguin Playhouse, and for children brave enough, there's the "Sleep with the Sharks" kids adventure and sleepover.
How to Get There
Traveling to the aquarium couldn't be easier.  The best way to get around town in general, and to get to the aquarium, is to use Gatlinburg's trolley system (all trolleys go to the Aquarium). You can park at City Hall or any of the Welcome Centers for free, and then you just pay 2-3 dollars for an all-day trolley pass.
Gatlinburg is very compact and a busy tourist destination, so parking can be competitive at times.  You'll want to either take a trolley or walk for the easiest, most convenient experience.
Ripley's Aquarium of the Smokies offers a Fun-Filled family experience!
For more information on the aquarium and its adventures
Visit: http://www.ripleysaquariumofthesmokies.com
Call: 1-888-240-1358
Location: 88 River Rd., Gatlinburg, TN 37738