Beyond the Lens! in Pigeon Forge is a unique attraction that appeals to adults and kids alike. It's a huge indoor environment with a mixture of arcade style attractions and compelling pop culture facts and mysteries. It's also filled with unique settings for selfies and photo ops – including on the moon!
Get a FREE VIP Pass to Beyond The Lens! worth $26.99, plus over $700 in other coupons, when you book a cabin. Call us at

866 34 SMOKY

.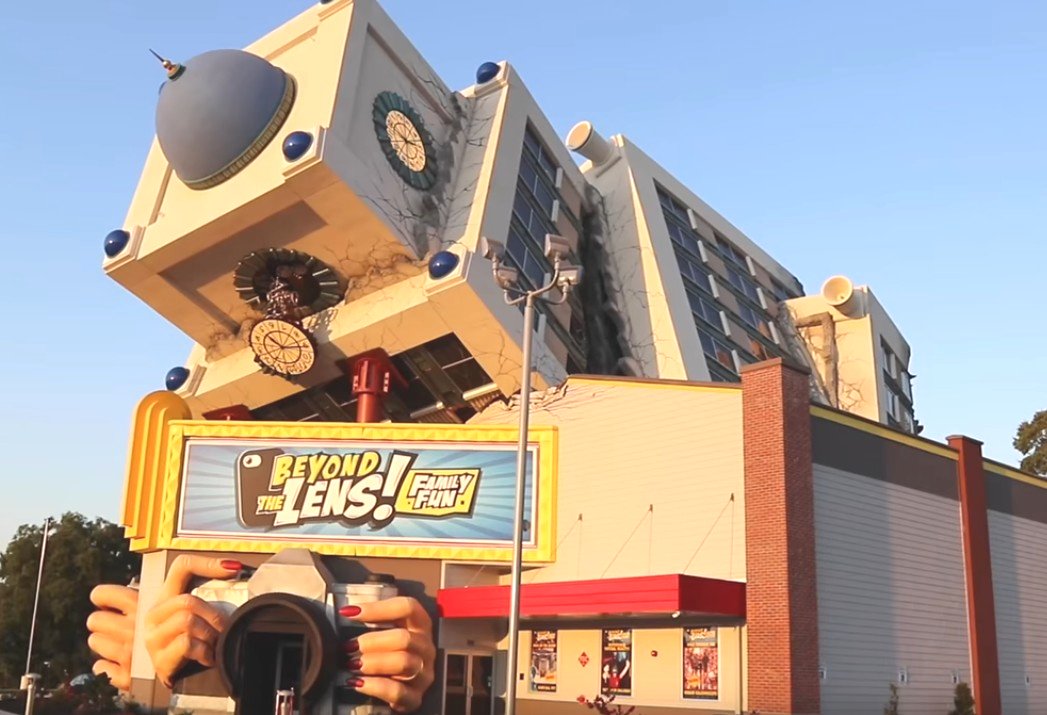 Beyond the Lens! can keep the entire family captivated and having fun for several hours – get the VIP pass and plan to spend half a day. The attraction both a virtual reality adventure that is out of this world, and an augmented reality trail that features hidden items that can only be found through your phone app.
The ingenuity of the place is what makes it so engaging – literally countless things you never thought of to interact with. How about a walk down a Hollywood red carpet with paparazzi clamoring for your picture (speaking of photo ops), and leave your hand print on the sidewalk like a celebrity.
Searching for Bigfoot makes an irresistible selfie opportunity, and lying on a $50 million stack of bills makes a pretty unique backdrop too. And Elvis is on hand too for that super-authentic photo op.
Things get wild with a walk through the Human Kaleidoscope, for a trip down the rabbit hole in an ever-changing set of lights and colors.
And for some outright physical fun, try jumping into the Alien Egg Pit, which is a large ball pit that adults can't resist – one of the great ways that Beyond the Lens! puts a grin on the faces of the grown-ups as they re-discover the fun that kids enjoy all the time.
The virtual reality adventures include a Jurassic Park romp and a plank-walk 60 stories above the ground – pretty exhilarating stuff – as well as futuristic Robo Wars. The augmented reality scavenger hunt involves spotting celebrity pets that can only be seen using the app, for a prize when you collect them all.
Besides the many regular video games at Beyond the Lens! the interactive exhibits feature unsolved crime conspiracies and compelling items of pop culture that we may have encountered but never really studied in depth before.
Throughout your visit to Beyond the Lens! there are countless opportunists to snap a shot of you and your group, as well as staged ops by the friendly cast of staff members. The VIP pass lets you copy all this to your phone. It's a great way to get high quality (and low cost) keepsake shots from your vacation in the Smoky Mountains.
Beyond the Lens! is one place to take the kids where the parents are going to have a blast as well, a unique experience.
Useful Information
Beyond the Lens! – Open Daily
2115 Parkway, Pigeon Forge, TN 37863
Tel: 865-366-1609
Web: beyondthelens.com