The Incredible Christmas Place in Pigeon Forge offers thousands of the seasonal items you want for the Christmas celebrations, AND it's open all year round, so you can plan your last-minute things long before the season hits.
Many visitors to the area make a stop at the Christmas Place, even in the heat of summer, because it's such a useful one-stop place to pick up all the items that you need every year but don't always find when the Christmas rush is on. And you can have them ship your items home for you.
And if you're in the Smokies during the Christmas season, why not set up a lifelike artificial tree in the cabin, complete with lights and ornaments, to go with the snow on the mountains all around? In December, as the day approaches, you'll find lots of last-minute deals on these things, as well as a chance for a photo op with Santa.
The Christmas Place offers several themed selections of items to fit your decor – one of which is the Christmas Cabin designer theme, by the way, with red truck and ski lodge ornaments, pine cone berry stems and many other ornament, garland and ribbon designs to add to the ambience of your cabin.
Other themes include Elf, Gnome, Farmhouse, Jack Frost, Bells, Snow, North Pole, Smoky Mountains, Shimmer Lights, Pets, Cartoon, Sweets – the list goes on, and all with items to match the theme for all the decoration requirements.
There's a wide variety of Christmas Stockings available here also, ranging from traditional to funky, and with many pet-shaped stockings for that family friend.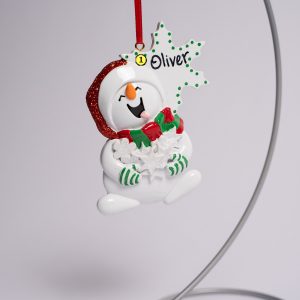 The ornaments are high quality, as with all the products here, and cover a vast range of themes, running the gamut from traditional to whimsical, to pure magical, and bound to bring a smile. You can shop here for ornaments and accessories that include angels and religious themes, animals, ballerinas, birds, bells, gnomes, baby shoes, beach, patriotic, musical, gingerbread, cartoons, sports, Santas, proverbs, snowmen, snowflakes – the list here goes on pretty far also.
You can personalize many of the ornaments with individual and family names, for an extra special gift-giving and memory-making flair.
The lights available at the Christmas Place are pretty impressive, more than just a simple string of bulbs, these lights also embrace different themes, with many of them more like a light show or a star display. Ornaments feature in some of the light arrangements also – Batman is included, not to worry, along with Mickie and Minnie.
The artificial trees, by the way, look very realistic, minus the pine needle debris – a useful feature for shipping home or decorating your rental cabin. They range in size fr5om small and cozy at around 3 feet tall, all the way up to 12 feet tall. You can also get them already set up with lights, for a one-switch Christmas from the one-stop place.
If you're getting the impression that the Christmas Place has so many things that you really need to visit to check it all out – well, that's our point. It's an experience to browse the store just to see all the possibilities for Christmas celebration that you may not have thought of, and there's a lot of browsing there, much of it glittery!
Useful Information
The Incredible Christmas Place
2470 Parkway, Pigeon Forge, TN 37863
(Located in Bell Tower Square, east side of Parkway)
Tel: (865) 453-0415
Web: christmasplace.com