Elks Plaza is a small oasis right off Parkway in Gatlinburg, and in a little world of its own. It hosts benches under shade trees, a collection of unique shops, a few onsite parking slots for shoppers – and the best restaurant in town. Easy to miss, but worth looking for, this little area hosts several treats.
Elks Plaza is across the street from Ober Gatlinburg, and fifty yards or so to the north, tucked up next to Howard's Steakhouse. Barely a half-block wide, if that, the Plaza is a U-shaped enclave, with Old Smoky Gem Mine fronting one arm on Parkway, and Somewhere In Time fronting the other.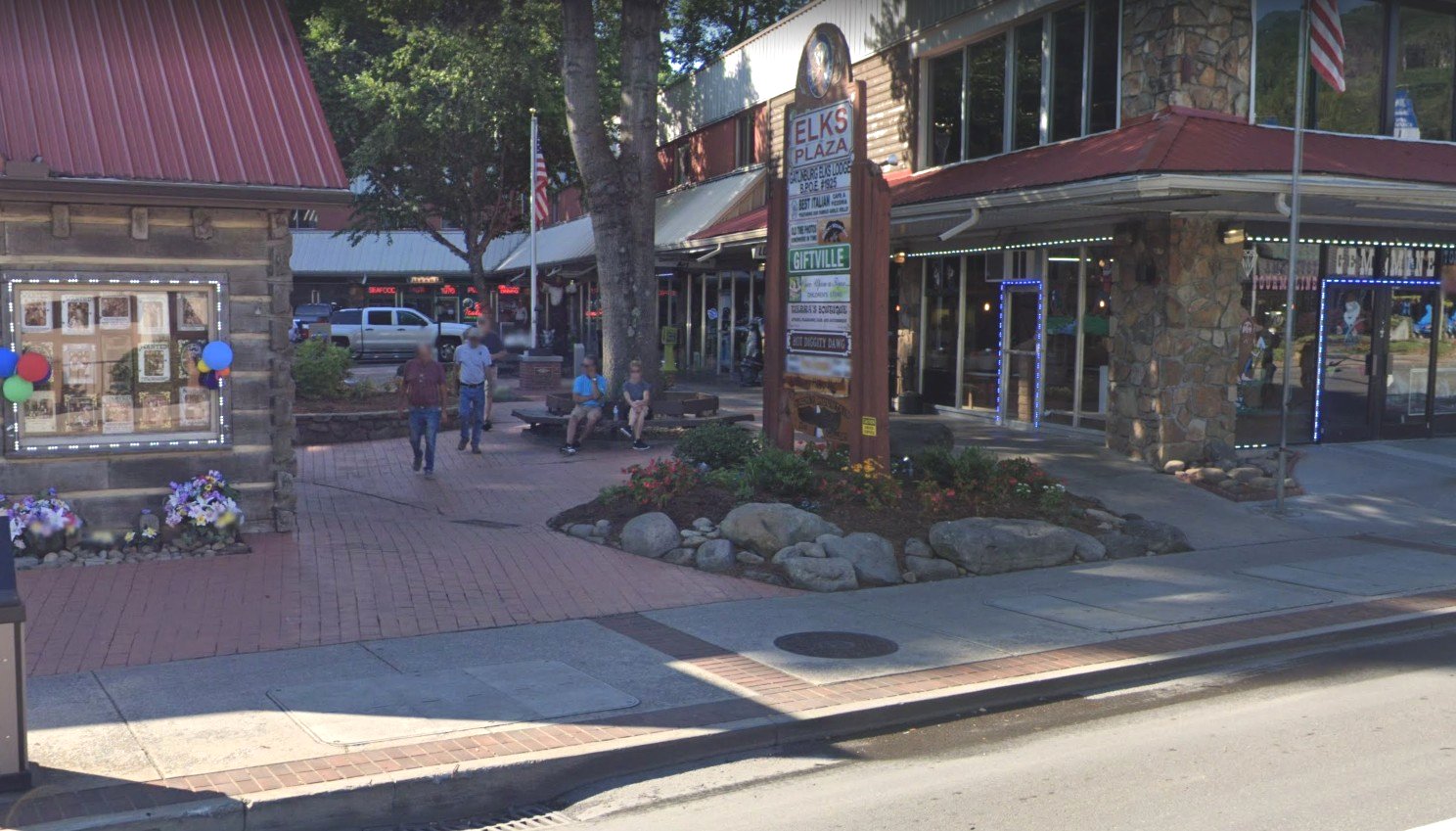 Hot Diggity Dawg features all beef hot dogs lavishly dressed with extras and sides, BBQ sandwiches, sausage, Guinness brat, nachos, cheese, chili and a real Frito Pie. Ice creams and sodas wash it all down, and there's a pleasant table outside as well.
Next door the famous House of Jerky offers free samples of its huge variety of meats and flavors – worth the tasting if you've never tried. Around the plaza is also Once Upon a Time, a children's gear and toy store, as well as Tierra's boutique with some nice clothes, and Giftville for souvenirs, Smokies t-shirts and other gifts items.
The Old Smoky Gem Mine offers a vast assortment of gemstones and paraphernalia for the enthusiast, while Somewhere in Time offers your portrait photographs wrapped in an earlier age. Hidden away also in the plaza is the Elks Lodge, so now we know how the Plaza got its name.
The star of the show here is undoubtedly Best Italian Café & Pizzeria at the rear of the plaza. This is a great locals favorite, a hidden gem of Gatlinburg – we've written a full feature story on the place in our Dining section here: The Best Italian Café and Pizzeria: a Gatlinburg Hidden Gem – this restaurant is undoubtedly worth making a target for lunch or dinner.
Elks Plaza is a quaint little place with not a huge amount of shopping, but eclectic shops with reasonable prices for quality items, and the ambience is a surprising delight, for being immediately on Parkway, an oasis of calm. There's no guarantee that any of the parking slots will be open if you drive there, but the opportunity is a nice touch, in a downtown where parking can be tight.
The Trolley stops close by, and there's plenty of parking nearby for those who like the adventure that never gets old, walking along Parkway. And along that way there are the benches under the shade tree of Elks Plaza for you to get off the main drag for a bit, and enter a different world.