Foothills Parkway is a national parkway that flanks Great Smoky Mountains National Park and offers superb panoramic views of the Smoky Mountains. One of the best and most recent scenic drives to appear in the Smoky Mountains is the formerly "missing link" of the Foothills Parkway that was opened in 2018. This stretch runs from Walland to Wears Valley, and offers views during spring of the wildflowers and during fall of the leaves turning color that are outstanding.
The road is pristine, with little traffic, a slow speed limit, no billboards and no buildings or development anywhere, and no heavy trucks allowed. Elevation changes are not steep, and it's a peaceful, meandering road with astonishing views, and many overlooks to pull over and stop at to enjoy them. The bridges along the road are nicely designed, and in places it can feel like driving in the sky. The slow speed limit is fit for purpose, with many winding curves in the road, and much to look at.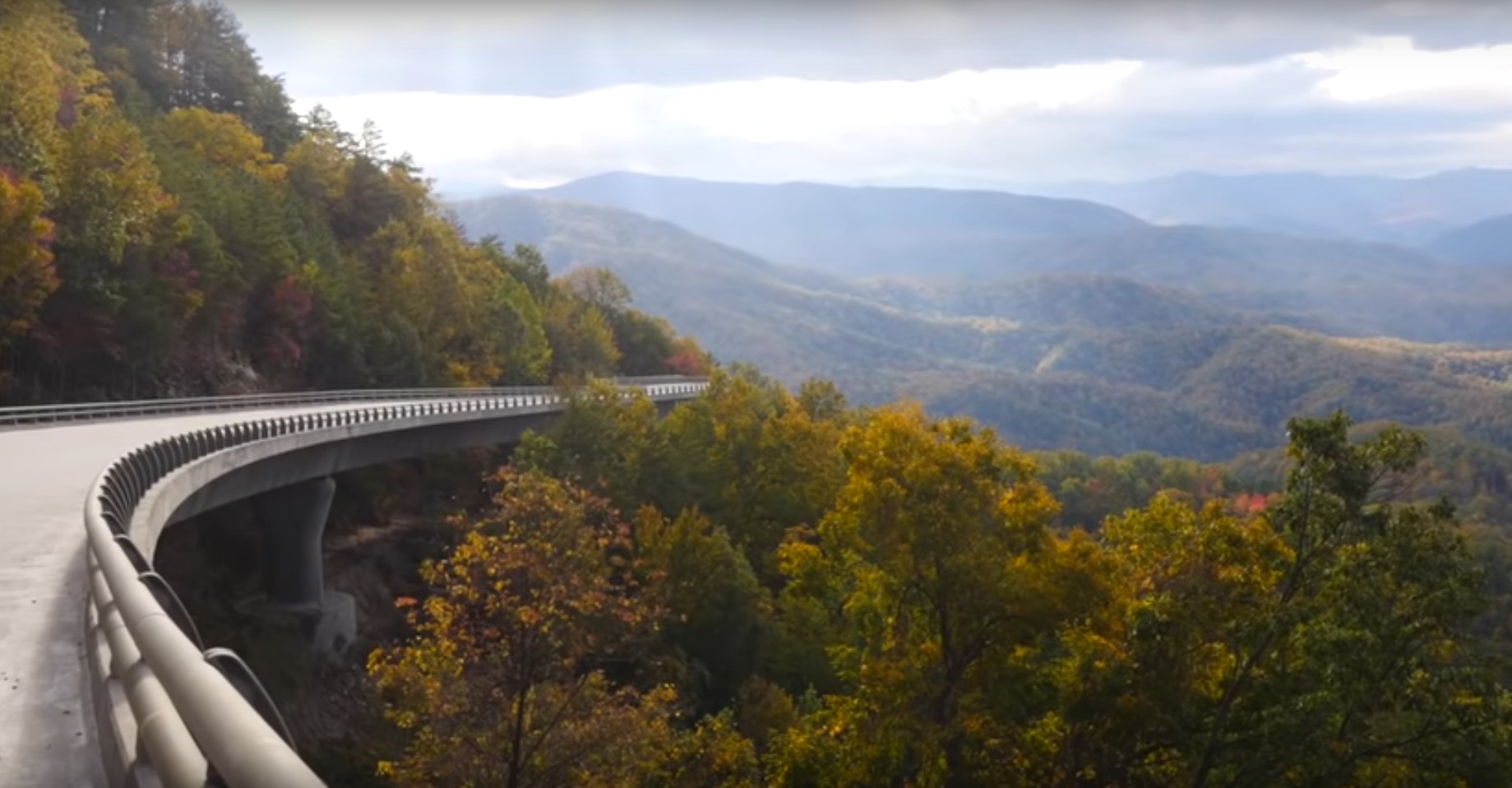 There are also no lights on the road, so night-time driving is not recommended unless you already know the road. And there are no restrooms, so plan ahead. And as always in the mountains, mobile phone reception may be sporadic, and GPS is often not reliable, so be sure to study the map below for directions and access points.
Foothills Parkway is an alternate route to Hwy 321 from Pigeon Forge to Townsend. You can access the roadway from Wears Valley, Townsend, and on west to Walland. Many people visiting the area come in from the north, and Walland is the most used access point. This is where the parkway curves south and continues on its original stretch down to Chilhowee, ending at a beautiful lake and picnic tables worth making a stop for.
Sitting at the originating start of Foothills Parkway, Chilhowee is an ancient Cherokee village, and a point on Chilhowee Lake and Recreation Area, in Cherokee National Forest. This is a whole different world that those who enjoy camping may wish to explore. Connecting with Hwy 129 here takes you to the world-famous portion known as Tail of the Dragon, flanked by Cherokee National Forest and Great Smoky Mountains National Park, an 11-mile stretch of road with hundreds of curves, a prime target for motorcycles and sports cars – but not so much for the casual driver.
If you turn around here and head back north, the whole drive from Chilhowee is almost 32 miles, and you could drive it in not much more than an hour – if for some reason you were able to drive past all the overlooks without stopping. The whole run is worth the drive for the many views and overlooks of the national park.
One of the overlooks on this southern leg of Foothills Parkway is Look Rock, an observation tower that's the highest point on Chilhowee Mountain, and with great views of Mt. LeConte. The tower is a short, half-mile hike from the parking area.
Working your way back to the stretch between Walland and Wears Valley, this is the missing link that locals waited 70 years to be completed. Some say this is the best part of Foothills Parkway, and we have no argument with that.
There is actually another portion of the Parkway that is completed, a 6-mile stretch from Cosby heading east to connect with Interstate 40. It's a nice drive to explore also. One day Foothills Parkway as it was originally planned will be finished, and will join up with the Spur that connects Gatlinburg and Pigeon Forge (the Spur is actually part of the entire planned roadway) – and on that day traffic will undoubtedly increase, but for now the road exists as a scenic drive rather more than a way to get anywhere. And as a scenic drive, it's hard to beat!
~~
No matter where you drive, we have cabins all over the area, so pick your vacation headquarters from our Wears Valley cabins, our Pigeon Forge rental cabins and our Gatlinburg cabins – and if you're bringing a pet, review our lists of pet friendly cabins in Gatlinburg and Pigeon Forge.