If you're feeling a bit adventurous and looking for some unique fun, ziplining might be just the activity you and your family or friends could enjoy.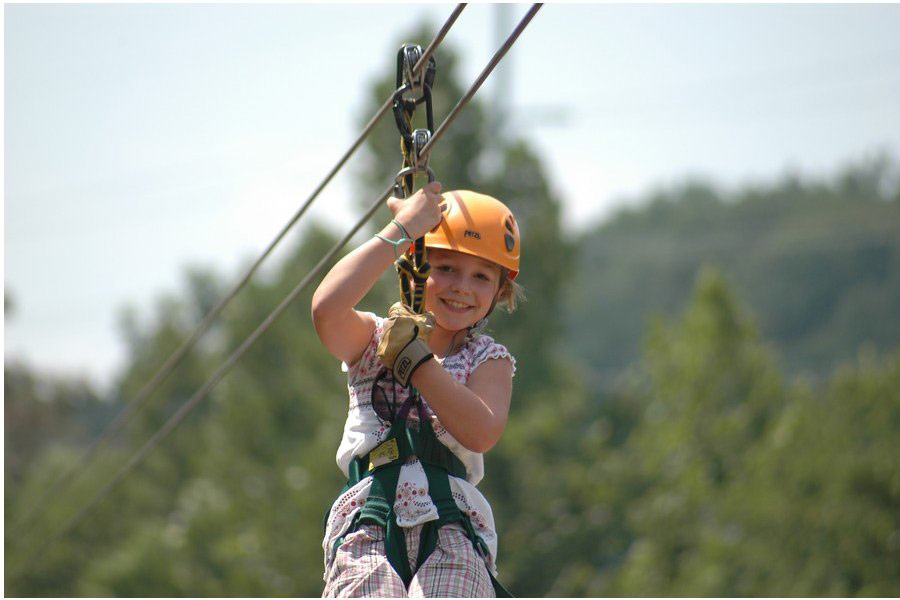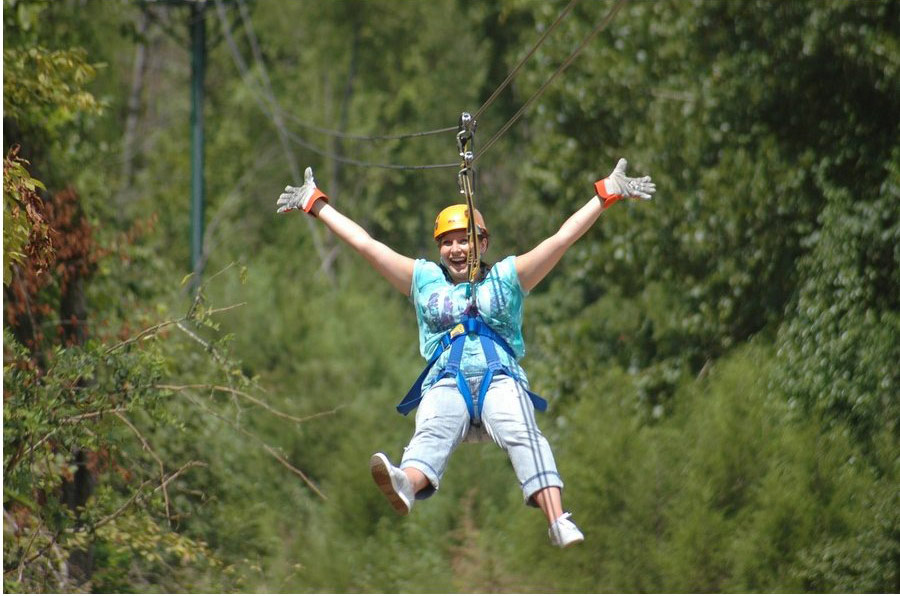 images courtesy of Legacy Mountain Ziplines
Imagine a thick steel cable strongly anchored from higher elevation and running down above the trees to a finishing place lower down the mountain. Now imagine you, securely strapped into a slider, gliding down that cable, high in the air, over hills, across dips and valleys, through some of the best scenery in the Smoky Mountains. Whoosh!
First, let's discuss some of the nitty gritty:
How Should You Dress?
You'll definitely be in the outdoors, so wear appropriate clothing, on the durable side. Shorts are okay and you'll be most comfortable if they're about mid-thigh length. Mountain temperatures can vary with elevation so wear layers of clothing – ask staff advice when you get there. Do not wear any shoes with open toes – anything else, such as a basic sneaker or hiking boot, is fine.
What Age is Ziplining Appropriate For?
It depends on the company. Some cater to children as young as 3 to go ziplining, while others have a minimum age of 18 with more intense courses.
How much Does it Cost?
Again it depends on the course you go to – tickets can be purchased at some courses for as little as $60. Group rates are worth checking into if you can muster around ten people – this is great way for everyone to bolster any nervousness they may have too.
Safety
Ziplining has a good reputation for safety, provided the lines are well installed, and the staff are well trained. Zip lines are no place for horseplay, showing off, or ignoring procedures.
The Association for Challenge Course Technology (ACCT) sets safety standards for ziplining. You want your zipline provider to have ACCT-certified staff. The company should be conducting self-inspections daily, with a third-party inspection annually. Good zipline companies expect you to have questions about safety and welcome the chance to give you all the answers you need – so ask!
Popular Ziplining Destinations
Okay, let's go ziplining in the Smokies! Here are some top destinations and some details about each:
Some of the longest zip lines in the world are right here in the Smoky Mountains, and Legacy Mountain Ziplines has 4.5 miles of them in 7 different zip lines. Children as young as 3 are permitted, and staff are ACCT certified. All lines are twin-cable for extra safety! Legacy Mountain Ziplines features a zipline adventure for the whole family through 400 acres of some of the area's premier scenery.
---
2 – Rafting in the Smokies
The name says "Rafting," but they have a great mile-long zipline course featuring 6 ziplines crossing 2 skybridges, for a total run of 2400 feet. They have the longest operating season among local zipline operators. While you're there, try their ropeline course and explore the Family Adventure Island. Ages 5 and up are permitted.
Get a
Free Ticket
to
Rafting in the Smokies
when you book a cabin (A $88 value!). Call
866 34 SMOKY
for details.
---
3 – Gatlinburg Zip Lines
This is a very popular one in Tennessee's Smoky Mountains. A regular ticket gets you 90 minutes of fun. You can also purchase a self-guided course section that lets you climb ladders and bridges, and also an optional 30 foot free-fall. Tickets begin at $59.
Web Site: http://www.ziplinesfamilyadventures.com
---
4 – Smoky Mountain Ziplines
If it's intensity you want, that's what you get at this course. You'll be traveling at speeds up to 40 miles per hour! However, some tours start off a little slower to let you get a feel for ziplining. But from there, it gets much, much more intense – so be prepared. Packages begin at $69.95.
Web Site: http://www.smokymountainziplines.com/
---
5 – Foxfire Mountain
If you want to slow things down and do them with the family, Foxfire Mountain is the place to go. It has courses suited for adults and children ages 8 and up. You can also find America's longest swinging bridge here, as well as ATV rides/hiking, and numerous other diversions – a great place to go to spend the entire day. Zipline tickets begin at $89.95.
Web Site: http://foxfiremountain.com/zipline-tour/
Save
Save