Feel the Speed (Safely) and Have Fun!
Lucky for you, when you're in the Smoky Mountains, you're spoiled for choice when it comes to kart racing venues in the Gatlinburg and Pigeon Forge area. Read on to find your family's best fit for rates, types of cars, type of venue (indoor/outdoor) and more.
Kart racing is the ultimate all-family pleasure activity. Out on the track, adults feel like kids and kids feel like adults when the entire family gets behind the wheel of a go kart, bumper car, scooter or any other fun vehicle, and ram into each other or race and pretend it's NASCAR.
Gatlinburg has everything – but no go karts. Pigeon Forge is where the go karts have congregated, with many venues close to each other between Lights #5 and #7. There's a venue for every taste and budget, and several venues boast ample selections of family attractions besides go kart racing, including bumper cars and boats, arcades, mini-golf courses and thrill rides.
With two outdoor concrete road course tracks – among the longest in Tennessee — and an arcade of games for the kids, Xtreme Racing Center and Arcade is a prime karting place you can visit with the family without breaking the bank. At a rate of $11-$30 for single to combo races, the racing kart selection of this Pigeon Forge go-karts venue is top of the line – world-class Sodi GT-5 and RT-8 models drive up to 30 MPH and 40 MPH respectively.
You can zip past friends and family members through twists and turns with ease on this Center's two smooth paved tracks — a 1,500 foot elevated track and a longer track measuring 3,500 linear feet. Who can ride here? Drivers older than 11 years of age (16 years to drive the double kart model with small youngsters no less than 3 years old). For the elevated track, drivers must be at least 48 inches tall.
If the weather isn't cooperating and your family wants to go out and have fun, search no more, the Blake Jones Racing Center can deliver you much fun and amusement. The only indoor kart racing venue in the Smoky Mountains, this Pigeon Forge go-karts venue features a covered figure 8 slick track, an indoor oval drift track and spin zone bumper cars. Their electric go kart vehicles are silent and eco-friendly and offer various speed settings for rookies and experienced drivers alike.
Prices here range between $10 and $26, with their rules stating that single car drivers must be 10 years old and 56″ tall to drive. Double car drivers, in turn, must be 16 years old and their passenger a minimum 36″ tall. Do you have younger kids? This location has spin zone bumper cars designed for kids 5 years old and up.
If you're looking for a good package deal, try the one-day Parkhopper Pass that gives you 5 different activities at these 3 go-kart and amusement locations:
You can buy the pass at any of the 3 venues. For $30 you get access to all 3 go-kart venues, with multiple tracks, 2 laser tag arenas, 2 modern arcades and one 18-hole indoor black light golf course. Safety rules on the kart racing courses vary but are similar to the ones mentioned above.
If you want to add even more options for your family, try The Track, an all-in-one family recreation center. The Track offers hours of fun in go-karts, mini-golf, bumper cars and blaster boats, kids country rides, arcade games, and adrenaline rides. The Go-Karts race around a three-tiered wooden track in either a single or a double seated kart. The Gator Golf mini-golf course tours through dark tunnels, jungle habitats, and beautiful waterfalls. Just watch out for the gators!
Next, smash into your friends and family in the bumper cars, or douse them with a water cannon in the blaster boats for a ride like no other. For the younger family members, head over to Kids Country to tour the park on the The Rio Grande Train, relax on The Carousel, fly with the Red Baron, spin on the Spin Tops, whirl on the Swings, enjoy the view on the ferris wheel, and swing on Noah's Lark swinging boat. What a fun day that will keep the little ones very happy!
For those seeking a little more action, The Track offers thrill rides, such as bungee jumping and skyflying (all of the thrill of skydiving), as well as arcade games and Skee-Ball.
Top Go Kart Racing Centers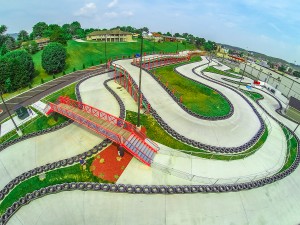 Xtreme Racing Center – Pigeon Forge Go Karts
3144 Parkway
Pigeon Forge, TN 37863
Web Site: xtremeracingcenterpigeonforge.com
Tel: 877-920-6294
Open 7 Days a Week
Prices: Xtreme Track:
GT-5 single run: $19.99
GT-5 & RT-8 combo race: $29.99 + tax
Elevated Track:
Single kart: $10.99 + tax
Double kart: $12.99 + tax
---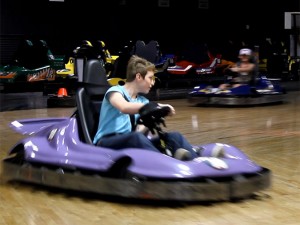 Blake Jones Racing Center
2891 Parkway
Pigeon Forge, TN 37863
9 AM to 9 PM Most Days of the Week
Web Site: blakejonesracingcenter.com
Tel: 865-774-5998
Prices:
Single GoCarts: 1 Race: $10 / 3 Races: $20
Double GoCarts: 1 Race: $12 / 3 Races: $26
Bumper GoCarts: 1 Ride: $10 / 3 Rides: $20
---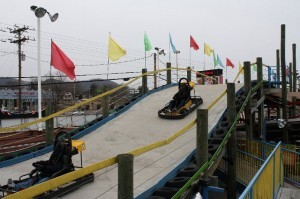 Speed Zone Fun Park
3315 South River Road
Pigeon Forge, TN 37863
Web Site: familyfunatspeedzoneinpigeonforge.com/
Tel: 865-908-7255
10 AM to 10 PM Most Days of the Week
Parkhopper Pass for Kart Racing and More: $30
---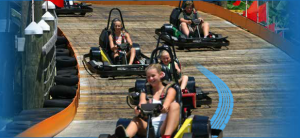 The Track Family Recreation Center
2575 Parkway
Pigeon Forge, TN 37863
Web site: pigeonforgetrack.com
Tel: 865-453-4777
Check Hours and Tickets