If you need an indoor activity to do with the whole family while you visit the Pigeon Forge area, the wax museum is the only one of its kind you can find in the entire country.
You can experience some of the modern stars like Brad Pitt and Natalie Portman. If you appreciate some of the classics, or if you want to teach your children a bit about history, there's some of the greats from yesteryear like Elvis Presley and Marilyn Monroe. You can go back even further and experience some of the original entertainers like Charlie Chaplin.
How to enjoy the Wax Museum
Walking through the entire museum takes around an hour, but it can go much longer if your children have fun adventuring throughout. Outside, you'll be greeted by a massive wax figure of King Kong climbing the Empire State building, and Mount Rushmore featuring classic actors. You have the opportunity to pose next to each and every wax figure and take a memorable photo with the rest of your family. Your children will enjoy posing as the king of the world, just like Jack did in the movie Titanic.
And make sure you look out for the horror exhibit along the way…it's so lifelike that you could experience genuine fright.
But keep in mind the Pigeon Forge wax museum is just one of three attractions on the premises. You can also take a ride on the Castle of Chaos, which is the world's first 5D ride. You'll put on 3D glasses, equip yourself with a pistol, and dispatch the evil holding the castle and its inhabitants captive.
When you're finished with the Castle of Chaos, try to navigate your way through Hannah's Maze of Mirrors. With more than 288 potential turns and hundreds of reflections surrounding you, it offers fun for all ages.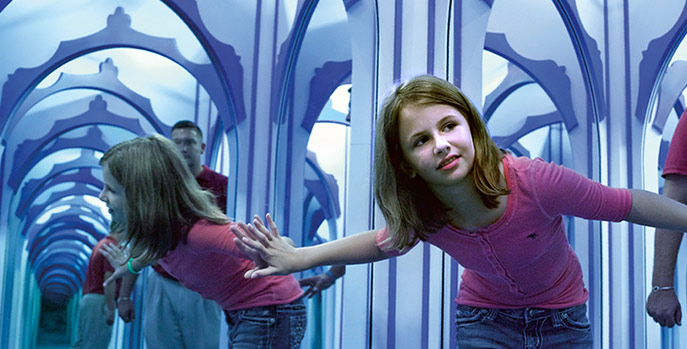 If you and your family want to have a great time and you enjoy movies and television, then the Pigeon Forge wax museum is a must-visit. Tickets are offered at up to a 50% discount, or even more, when purchased online.
Check the Wax Museum website or call 865-428-5228 for more information.