There are lots of riding stables and a wonderful variety of terrain throughout all the foothills of the Great Smoky Mountains available for horseback riders visiting Gatlinburg and Pigeon Forge. You can pick a trail ride that suits all your family members, from youngest to eldest, many with guided tours and even dinners by a campfire.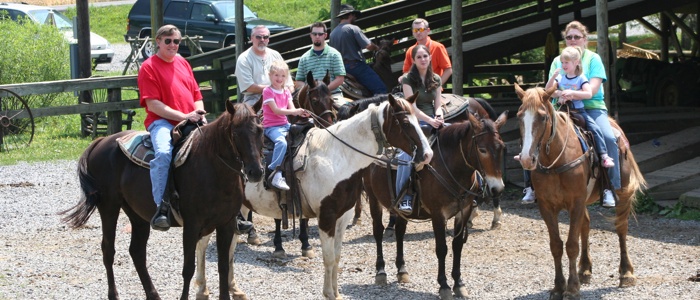 There's a broad diversity of horse riding stables and riding experiences available. Pigeon Forge or Gatlinburg horseback riding truly offers a horse and a trail for every rider, no matter the age, experience or preference. Take your pick of guided tours with picture-perfect nature spots and vistas, with rest spots and rustic lodging in the form of quaint cabins or camping sites.
From camp fires with hearty cooking to gentle hay rides and luxury cabanas, the diverse possibilities accommodate all members of the family from the very young to the elderly.
Feel free to contact us directly for our tour recommendations and help when making reservations.
Riding Stables in Pigeon Forge and Gatlinburg:
Cades Cove Riding Stables
Located in the Great Smoky Mountains National Park near Townsend, TN
Phone: 865-448-6286
http://www.cadescovestables.com/
Provides guided horseback, carriage and hay rides for National Park visitors who want to experience nature in a different way. Cades Cove offers some of the best opportunities for wildlife viewing in the Park. Sightings include: black bears, woodchucks, turkeys, white-tailed deer and other animals.
---
Smoky Mountain Stables
Located in the Great Smoky Mountains National Park near Gatlinburg, TN
4 miles east of Gatlinburg on Hwy 321
Phone: 865-436-5634
http://www.smokymountainridingstables.com/
Horseback riding available from mid-March through late November. Rates average $20 per hour. Weight limits and age restrictions apply. Smoky Mountain Stables has been in operation for over 20 years. This company offers rides for beginners through advanced riders (ages 5 and up).
---
Big Rock Dude Ranch
Located just a short drive from Pigeon Forge, 2 miles from Parkway
Phone: 865-428-9398
https://horseridingbigrock.com/
Petting zoo, kids playground and picnic areas all free to visit. ATV and Horseback Riding. General store, gem mining, museum, fishing pond, cafe. Rides for small children as well as all standard rides and tours. High safety rating (and helmets available).
---
Douglas Lakeview Riding Stables
1650 Providence Road
Sevierville, TN 37876
Phone: 865-556-3869
http://www.douglaslakeviewridingstables.com
The trails at Douglas Lake View Riding Stables offer panoramic views of Douglas Lake and the Smoky Mountain ranges. Their trails are real back country primitive mountain trails. They offer trail rides ranging from one, two or four hours. Longer rides can be arranged also. Ride along the beautiful scenic shoreline of Douglas Lake, in the foothills of the Great Smoky Mountains. Douglas Lakeview Riding Stables also offer Sunset and Moonlight rides, as well as Horseback Weddings, Pontoon Boat Weddings and various other wedding packages.
---
McCarter's Riding Stables
923 Robinson Gap Rd
Sevierville, TN
Phone: 865-436-5354 / 429-1801
Established in 1931, McCarter's Riding Stables offers guided rides on scenic trails that go deep into the National Park — areas you wouldn't easily see on foot. This stable keeps gentle trail horses and lead horses for children and organizes group rides.
---
Five Oaks Riding Stables
1630 Parkway
Sevierville, TN 37862
Phone: 877-741-8070
http://www.fiveoaksridingstables.com/
The trails at Five Oaks Riding Stables will take you through scenic forest coves and majestic hilltops and afford you views of the splendid Smoky Mountains. This stable offers several rides and keeps some of the most knowledgeable and skilled guides and riders in the region.
---
Davy Crocket Riding Stables
505 Old Cades Cove Rd.
Townsend, TN 37882
Phone: 865-448-6411
http://www.davycrockettridingstables.com/
Daily rides from March 15 through November 15; Winter months by reservation only.
---
Next to Heaven Stables
1239 Wears Valley Rd
Townsend, TN 37882
Phone: 865- 448-6947
http://www.nexttoheavenmountainadventures.com/
Open Monday-Saturday Year Round
This ranch hosts the only unguided horseback rides in the Smoky Mountains. Their hour-long unguided ride winds through more than 45 acres of the finest scenery in the Smoky Mountains.
Save