Huck Finn's Catfish in Pigeon Forge is a family business serving locals and visitors alike since 1995. Fans of this freshwater fish will find a satisfying seafood and Southern-style food experience at this all-you-can-eat restaurant.
The catfish is excellent, grain-fed and pond-raised in Mississippi (which means that the quality will be consistent, from the last time we went, to the next time you go), and actually has earned a certification from the US Catfish Institute, which not everyone gets.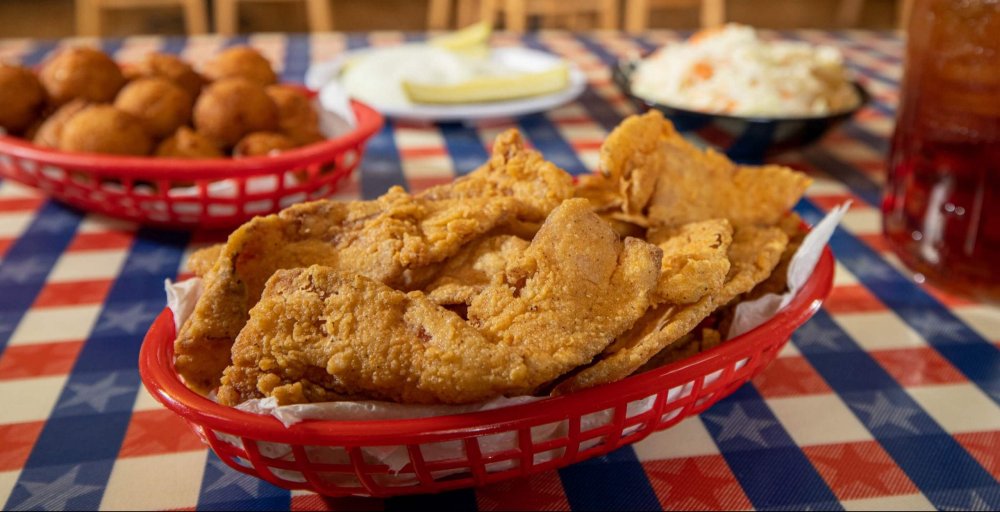 Huck Finn's was voted Best Catfish in East Tennessee by Tennessee Magazine, and customers seem to agree, frequently calling this the most delicious catfish they ever ate. The restaurant also serves a wide range of quality dishes, appetizers, sides and combos.
The Food
Huck Finn's offers a very flexible menu with several ways to order, and the portions are huge, so sharing for most items is highly acceptable. The sides that come with every meal include white beans and turkey ham, coleslaw made fresh daily, and hush puppies – plus a few more things, and all are delicious.
The "All U Can Eat" dinners are catfish or chicken, or a combo of both. Other entrees include several catfish, chicken and shrimp dishes, clam strips, trout, salmon and a Fish of the Day. Also offered are a country-fried steak, chopped steak, and southern pork chops – all of these are really good. And for the adventurous, there are frog's legs, or Gator Tail bites from Florida alligator.
For a down-home place, the kitchen at Huck's is clever with its flavors, offering more than one family secret recipe, and several different grilled seasonings to complement the meals. Many of the foods are offered either grilled or fried, and the fried dishes are not at all greasy, and in all, nothing here is mushy – everything is fresh with a crisp, sharp texture and flavor. Even the ordinary items are homemade.
Children have a kid's menu to choose from, and the desserts include cobbler, pudding, sweet potato patties and ice cream.
Check the Menu for the full details.
The Place
As mentioned, you can do a lot of mix and match with all the items on the menu and the super friendly staff will advise you exactly how to do it to suit your group and taste best. Even when it's busy the wait staff manage to get everything on the table fast, and cater to each guest personally.
The dining room is open and spacious, and with a casual atmosphere. Huck Finn's also offers delivery, take-out, and curbside pickup and you can order online.
If you can still walk when you leave (those huge portions again), check out the  gift shop section of the restaurant. You can find tee shirts, hats, magnets, koozies, stickers, and some food items that you can take home.
Useful Information
Huck Finn's Catfish
3330 Parkway, Pigeon Forge, TN 37863
Tel: 865-429-3353
Web: huckfinnsrestaurant.com
TIP: If you want to walk off a lunch at Huck Finn's, you're just across Parkway from Patriot Park, with its riverside walking trail, as well as the Old Mill District for some shopping, and the Riverwalk Greenway to really stretch your legs.