With a trip to Junction 35 Spirits, you can enjoy a unique distillery and restaurant dining experience in between all your Pigeon Forge adventures. You'll find this venue conveniently located in the Tower Shops at Mountain Mile, making it easy to stop by as you travel around town. A stop here lets you explore this establishment's approach both to distilling top-shelf spirits and creating slow-cooked BBQ dishes.
The Spirits
The distillery serves as the heart of Junction 35 Spirits and supports their mission to create high-quality spirits for all to enjoy. Day in and day out, they create flavorful whiskey, vodka, gin, rum, tequila, and even moonshine designed to pack a powerful punch. Every last product comes off the line ready to savor with your family, friends, and neighbors.
You can buy their spirits by the bottle for yourself or to give as gifts, but the real magic lies in enjoying their handcrafted cocktails. The Infused Martini is easily one of their best sellers and for good reason. This drink begins with their Blackberry Moonshine and then gets elevated with pomegranate and lemon flavors. Other popular cocktails include the Tennessee Margarita, Spiked Peach Punch, and Dirty Dill.
Kitchen and Bar Fare
Although the distillery is the star of the show, just as much love goes into serving BBQ-inspired meals and other bar food favorites. All the food is available as takeout, but it's well worth sticking around to enjoy your meal in-house. For the ultimate dining experience, aim to enjoy a full three-course meal by kicking things off with an appetizer and ending with dessert.
Junction 35's appetizers range from Fried Green Tomatoes and Fried Pickles to BBQ Nachos and Tennessee Poutine. Their portion sizes make each one share-worthy. They're also a fantastic option if you just want a small bite to eat with your cocktail.
If you're sticking around for an entrée, you can enjoy menu selections such as the following.
Smash Burgers
Available 14 different ways, the Smash Burgers start with the perfect mix of chuck and brisket to create each patty. Then they're grilled to perfection and placed on a robust bun with all your favorite fixings. Want more patties? They can do that for an extra charge. You can get just the burger or make it a platter with coleslaw and onion strings.
Smoked BBQ Meat Tray
When you're in the mood for slow-cooked barbecue meats, the Smoked BBQ Meat Tray can satisfy all your cravings. To order this item, you'll need to choose between all their available meats, like Montreal Beef Brisket, Pulled Pork, Sausage, and Ribs. You also get two sides of your choice, such as Stone Ground Cheese Grits, Loaded Mashed Potatoes, and Seasoned Rice. As if all that's not enough, pickles and garlic bread come alongside.
And There's More…
Although the Smash Burgers and Smoked BBQ Meat Trays get the most attention, that's not all this fine kitchen has to offer. The menu includes salads, smoked wings, sandwiches, and artisan pastas such as the ever-popular Blackened Chicken Alfredo. A handful of entrees round out the offerings, ranging from Shrimp & Grits to Fried Chicken Tenders.
If you manage to save room for dessert, you'll get to choose between the Peach Moonshine Cobbler and Chocolate Bourbon Brownie. Both come topped with a big scoop of ice cream that complements the rich flavors of each one.
Memorable Dining for Everyone
Despite being a distillery, Junction 35 Spirits is a family-friendly joint – and the place welcomes you to bring your dogs too. So you can bring all your family, friends, and pups along for the ride to enjoy a memorable dining experience together.
Whenever you stop by, the friendly staff warmly welcomes you through the doors and gets you seated in the dining room, or out on the patio if you prefer. Delicious food and drinks arrive promptly, once you've chosen between all the options that is. If you're lucky, live musical performances will keep you entertained while you wait for your orders to arrive.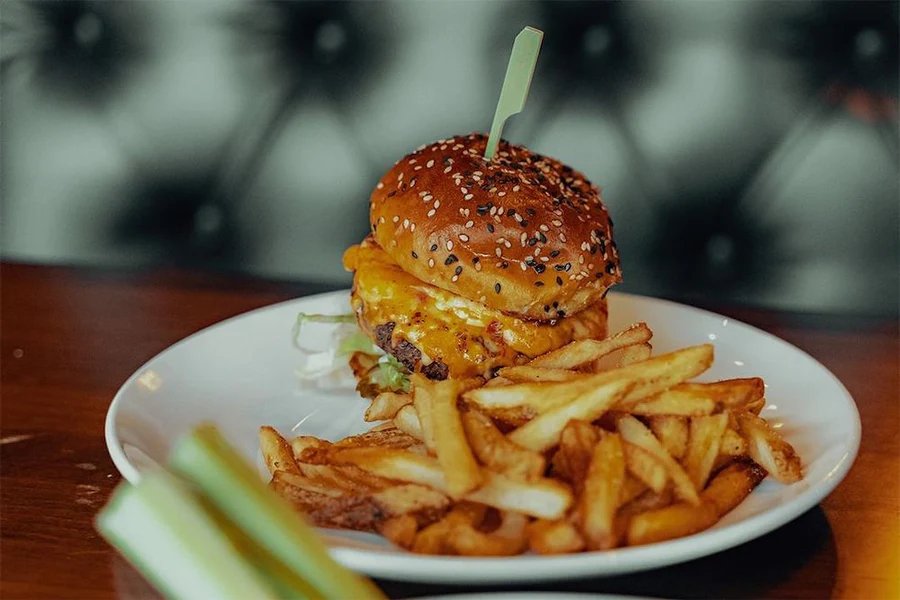 Useful Information
Junction 35 Spirits
2655 Teaster Lane, Pigeon Forge, TN 37863
Tel: 865-365-1019
Web: junction35spirits.com
Hours: Daily, 11am-10pm +/-