New Year's Eve celebrations in Gatlinburg and Pigeon Forge offer two great venues bringing the long-anticipated excitement of free concerts, live and DJ music, specials in local restaurants and theaters, crowds of revelers, millions of seasonal lights and massive fireworks to ring in a brand-new year at midnight.
Millions of people everywhere are outdoors and up late as the year closes, and the Smoky Mountains are no exception.
Usually Gatlinburg's Space Needle draws 50,000 attendees to the New Year's event, featuring its own special countdown and ball drop from the 400-ft tower, in its annual New Year's Eve celebration, which culminates in a hugely spectacular fireworks show.
At the same time in Pigeon Forge, excitement builds at The Island, which offers free entertainment, a countdown, plenty of razzle-dazzle, and more amazing fireworks.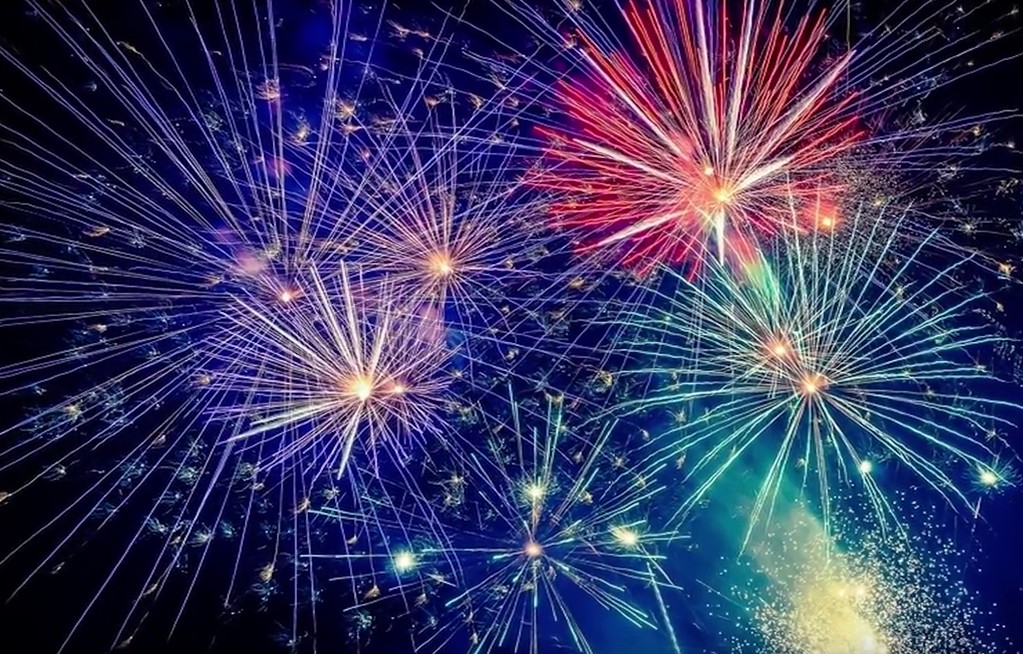 New Year's Eve in Gatlinburg
One of the nation's largest organized New Year's Eve celebrations is in downtown Gatlinburg on the evening of December 31. The venue is at traffic light #8 at Parkway and Historic Nature Trail, in the area adjacent to the Gatlinburg Convention Center, and the perfect place for a great view of the Needle and the lighted ball drop counting down to midnight, when the fireworks begin. The professional pyrotechnic display is highly acclaimed – if you've never seen it, you WILL be impressed.
Come early and mingle with a typical Smoky Mountain, super-friendly crowd of visitors and locals, and enjoy the many specials offered by nearby restaurants, wineries, distilleries and shops. For late breaking news check the Space Needle Facebook page.
Here's a clip from a recent celebration:
New Year's Even in Pigeon Forge
Because Gatlinburg is a slightly more densely arranged town, families with small children or groups of friends may prefer a more spacious venue for celebrating the New Year. In this case, Pigeon Forge is ideal.
At the Pigeon Forge New Year's Eve celebration, revelers gather at The Island The crowd here is smaller but The Island has its own kind of magic in the air. There's no ball drop but there's a countdown followed by a fabulous fireworks display. Parking is free and so is the celebration's entertainments.
The Island is its own enchanting world, with lots of kid-friendly attractions and rides, as well as shops and eateries – with many offering specials for the big holiday. And of course the amazing observation wheel and lighted fountains as well as the Christmas lights add to the sparkle all around.
There will be live music, dancing, food, attractions, prizes, and much more. Don't forget to head up in the observation wheel for a look at the beautifully lit up landscape!
And for late-breaking information check The Island/s Facebook page.
And remember, no matter which town you choose for your destination, we have cabins across the whole area to suit your stay. Choose from our Pigeon Forge cabins, our Gatlinburg cabin rentals, and our Wears Valley cabins. Everywhere around here is pretty close to anywhere you want to be.