Ober Gatlinburg sits above Gatlinburg on Mt Harrison, and for 50 years has offered skiing and snow sports in winter and plenty of other fun activities that are good all year round. Access to the area is as simple as taking the nation's largest Aerial Tramway, right from Parkway in downtown Gatlinburg (there's also a road that goes up there).
Winter on the slopes at Ober Gatlinburg offers 10 trails and 4 lifts, as well as a Freestyle Terrain Park for advanced skiers and boarders to practice their moves. The ski area has high technology snow making equipment to help build the base and to form the terrain park for an early kickoff nighttime celebration usually prior to Thanksgiving (the slopes generally open in December).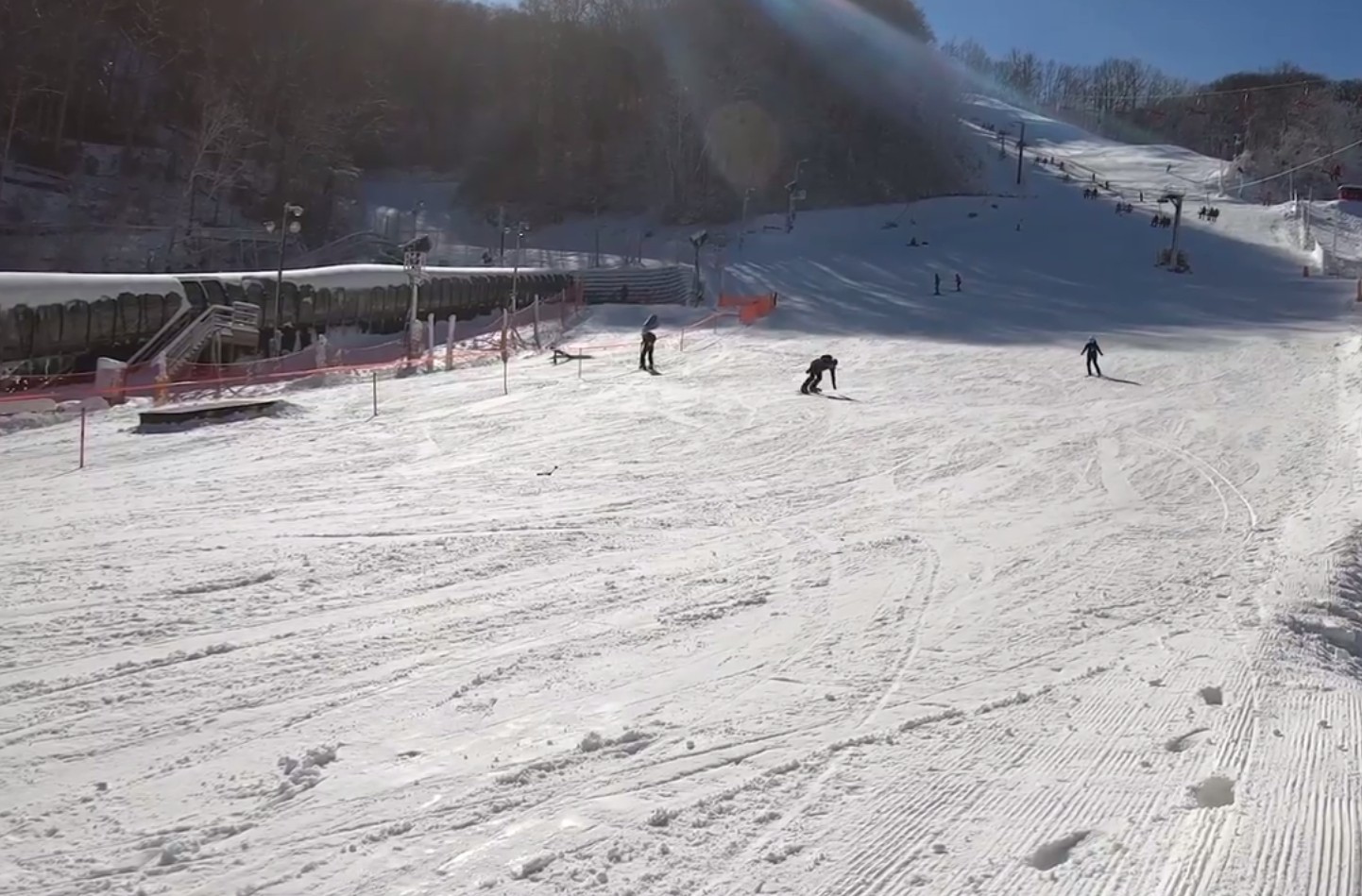 There's also a Snow Tubing Park, which crews try to keep open from Thanksgiving to Easter. It takes no skill to take the tubing ride, and it's suitable for all ages above 3 years old. The run is 350 feet long with a 50-foot elevation drop, and the magic carpet escalator takes you and your tube back to the top of the hill for another slide down. The snow tubing is hugely popular, and enjoyed by locals and visitors alike – consequently the tubing sessions of an hour and a half can be sold out days in advance, so plan ahead.
The Cubbies Snow Zone is a safe place for small children to have fun in the snow, and the resort's ski instructors offer lessons for all experience levels. The resort also hosts several special events through the season, with nighttime skiing, ladies nights, and other occasions that make great spectator sport even if you're not participating.
All Seasons on the Mountain
Winter snow aside, Ober Gatlinburg offers one of the best views of the Smoky Mountains from its mountaintop perch, and with telescopes in the viewing area to pick out the familiar landmarks. In summer, the scenic chair lift takes visitors to the top of the slopes for a perfect way to enjoy the stunning scenery.
Back at base, the resort offers numerous attractions. For kids, there's a climbing wall, an alpine slide, water raft rides, chair swings, umbrella rides, mini golf and an outdoor maze. There's also a wildlife encounter with several creatures that are all rescued and no longer suited for the wild – including black bears, bobcats and river otters.
As a bonus, the tubing hill remains in service through the summer also, adapted for downhill tubing on specially constructed surfaces – fun for young and old alike. And nearby is the Ski Mountain Coaster, which offers a sedate tow up the mountain, for an exhilarating ride back down in one and two-person coaster carts with individual brakes for the most comfortable speed.
In fall, as the leaves turn their colors for the spectacular displays of gold and red that the Smokies are famous for, the beautiful setting of Ober Gatlinburg is especially gorgeous. October, too, is the time of Oktoberfest, which Ober Gatlinburg celebrates in style in its Seasons Restaurant.
From late September through October, the restaurant features Bavarian specialties, with an outdoor Bier Garten to sample numerous classic German beers in style – along with inflatable play castles and face painting for the kids. Along with food and drink, there's music and dancing in the old folk style, with yodeling and lederhosen aplenty.
Indoor Dining, Shopping and Ice Skating
The Seasons of Ober Restaurant provides fine dining and an extensive American menu, with a wonderful view from its spacious dining room. There's also a huge dance floor for mountaintop festivities. The Ober Loft Lounge offers a cozy bar setting with craft beers and spirits that include local moonshine (now legal).
The climate-controlled indoor Mall at Ober Gatlinburg also offers several other eateries for café food including burgers and sandwiches, delicious fudge, pastries and coffees.
There's also a large ice-skating rink in the Mall, the perfect place in a hot summer to come and cool down, or get in the festive spirit in winter. The arena is suitable for all skill levels, including several star skaters who reside locally, and has hosted ISI tournaments at times. And if you just don't feel right on skates, take the cordoned-off section and enjoy the Ice Bumper Cars to bump, spin and zoom across the ice.
None of the fun at Ober Gatlinburg would be complete without Shopping, and there are more than a dozen different shops throughout the Ober Gatlinburg extent. Down on Parkway at the Ober entrance to the Tram, the Tramway Mall offers gifts and souvenirs, artworks and crafts, and artisanal chocolates and foodstuffs.
Up on the mountain in the Mall, specialty shops offer clothing and gifts, accessories and outdoor gear, souvenir apparel, and a range of other items including beer steins, engravings, leather goods including coats and shoes, and even puzzle games for the kids.
Useful Information
Ober Gatlinburg Ski Area & Amusement Park
1001 Parkway Suite 2, Gatlinburg TN, 37738 (for Tram)
1339 Ski Mountain Rd, Gatlinburg, TN 37738 (driving)
Tel: (865) 436-5423
Web: obergatlinburg.com
Open Daily Year Round