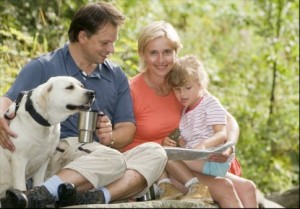 Everyone wants to spend time in the great outdoors with their four-legged friends, and the Great Smoky Mountains are a beautiful area to explore with your pet. However, it's important to remember that there are restrictions when it comes to bringing pets on hiking trails within the park. Learn more about how you can have a safe and enjoyable trip to the Smoky Mountains with your pet, while observing all of the necessary regulations throughout the park.
Getting around the park with your pet
Essentially, pets are allowed anywhere in the great Smoky Mountains National Park that cars are. Thankfully, the park is a very accessible place by car, and there are plenty of popular attractions and also places that are more off the beaten path that you can see with your pet in tow.
This includes all roads (however, walking along the roadways in the park is generally not recommended, because of the danger from vehicles), parking areas, picnic areas, campgrounds, scenic overlooks, and other roadside stops throughout the park. Please keep in mind that pets must always be kept on a 6-foot leash, even in the areas where they are explicitly allowed. Also, if you are camping in the park, make sure your pet is never left unattended in either a tent or an RV.
Pet-friendly hiking trails inside the park
The park's reputation as a hiking wonderland is well earned, but if you're planning on bringing your pet to do some hiking there are some rules you need to be aware of. Great Smoky Mountains National Park is a protected habitat, a globally ecosystem, and home to a multitude of wildlife species. Pets are not allowed on any hiking trails inside the boundaries of the park, even on a leash – except for two specific hiking trails where pets are allowed.
The Gatlinburg Trail on the Tennessee side is 3.8 miles long out and back, and it winds through the forest offering lovely views of the parallel Little Pigeon River. You'll also be able to see several historic home sites along the trail, and at one point there is a pedestrian bridge that crosses directly over the river. The terrain of the Gatlinburg Trail is mostly flat, and it is recommended for all skill levels.
If you're on the North Carolina side, you can take your pet on the Oconaluftee River Trail, which is three miles long and flat with a few smaller hills.
Other activities for you and your pet
When you're in the Smoky Mountains area and looking for activities you can do with your pet, there are plenty of opportunities outside of the park itself. Feel free to take your buddy on a stroll through the streets of Gatlinburg and Pigeon Forge, and enjoy a meal at one of the many restaurants with outdoor patios. Just keep in mind that the sidewalks get crowded during peak seasons, so you want to make sure your pet is not scared by large groups.
Both cities are also home to numerous city parks that welcome leashed pets, including the beautiful Patriot Park in Pigeon Forge. And check out the newly completed Riverwalk Greenway in Pigeon Forge, running along the river through the heart of town, on perfect, pet-friendly urban park way.
If you want to give your dog some time to exercise and play off-leash, the town of Sevierville is just a short drive from Pigeon Forge, and has a great dog park that is open year-round. Gatlinburg, too, has a great dog park in Mills Park, opened in 2021.
Finally, if you're looking for a place to stay with your pet while you're enjoying the beautiful scenery of the Great Smoky Mountains, don't forget that we have the largest selection of pet-friendly cabins in Gatlinburg. And our pet policy is the most flexible you'll find, with no restrictions on the number or size of your pet, and not minimum stay requirement.
Other Public Lands to Hike With Pets
There are public lands outside the national park that offer recreational opportunities not available here, and accommodate hiking with dogs. Here are some suggestions.
Save