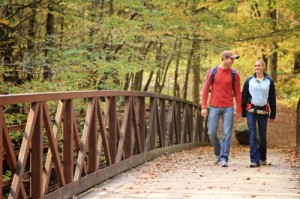 Before embarking on your Gatlinburg cabin vacation or Pigeon Forge cabin vacation, consider adding one of these hiking guides to your suitcase: The Smoky Mountain Scavenger Hike Adventures help you explore these woods in a new light. To unveil true hiking mysteries, carry this scavenger hiking guide with you, choose a trail to explore, and be amazed at the newfound detail you will see in the forest and trails.
A great way to engage interest in all ages of hikers, the LaFevres write about natural and manmade treasures hidden in the woods, such as a boulder bigger than a Winnebago, bear tracks that were left in wet concrete, rusted remains of a Model T Ford deep in the forest, a giant natural rock house that pioneers used as a shelter, a 1,000 foot sheer cliff drop with a view that takes your breath away, a hidden ancient Cherokee Indian path that was used for hundreds of years, a 120 year old cabin that you can explore inside, and a mysterious "midnight hole" a deep pool of water below a powerful waterfall.
Your hiking expedition will earn points for each treasure you find, and your reward, a certificate of completion included in the book and many treasured moments of your own, ignites your path to future adventures in the beautiful mountains surrounding your Smoky Mountain cabin rental. For more information and to order copies of the laminated hiking guide, please go to http://www.smokymountainscavengerhike.com. Happy hiking and exploring!
Save
Save
Save