Miami may be known as the epicenter of Cuban food in the United States, but it's possible to find authentic Cuban cooking without having to take a trip down to south Florida. That's where Smokies Cuban Cafe comes in – it's a hidden gem in Pigeon Forge that serves up delicious and traditional Cuban dishes that will transport your palate to the Caribbean.
Enjoy traditional Cuban food far from the ocean
The chef and owner of Smokies was born in Cuba and raised in Miami, so he knows how to deliver the authentic flavors and ingredients of his homeland, even in the heart of the Great Smoky Mountains.
Locals and visitors in the know consider Smokies Cuban Cafe to be a good option for a type of cuisine you normally wouldn't think about when visiting this area. If you're looking for a place with reliably good food as you explore Pigeon Forge, then you should definitely make time for Smokies Cuban Cafe.
Sample freshly cooked island cuisine in a homey atmosphere
Ask just about anyone who's eaten at Smokies Cuban Cafe, and they'll tell you that it's held in such high regard among the locals and regular visitors because all of the food is prepared fresh. The chef goes out of his way to cook as much as possible from scratch and make everything to order. He also sources products from local vendors and farmers as often as possible, and you can taste the dedication in the various dishes on the menu.
If you're in the mood for a Cuban classic then you have to try the restaurant's take on the Cubano sandwich made with tender ham, succulent pork, cheese, pickles, and mustard all on perfectly pressed Cuban bread. The tostones, or smashed and fried green plantains, are always a perfect side to accompany any meal. They also have some selections that you might not be familiar with, including the marinated and lightly-breaded pork steak that is fried until golden brown. Or you could check out the distinctly Cuban take on the burger – the Frita – which is a flavorful mix of ground beef, ground pork, and chorizo accentuated with additional spices.
The decor and atmosphere in Smokies Cuban Cafe are simple and welcoming, and they really underscore the fact that you are getting some real authentic Cuban home cooking. Since everything is prepared fresh, it's worth noting that some menu items may take a little longer to prepare.
Try a few specialty Cuban beverages before you go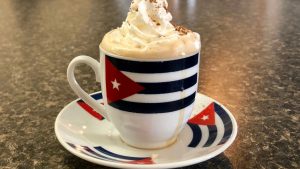 An island experience for your taste buds wouldn't be complete without some traditional Cuban beverages, and Smokies Cuban Cafe has several refreshing options that will provide a break from the usual sodas. You can order a variety of juices and shakes made from tropical fruits such papaya, guava, mango, and guanabana, and they perfectly complement the rich and hearty dishes on the menu. If you're not interested in something on the sweet side, try a shot of Cubano espresso, famous for its frothy crema and balanced flavors.
Go for the unexpected on your next Smoky Mountains vacation
Cuban food may not be at the forefront of your mind when you plan your trip to the Smokies, but with scratch-made dishes and a family-friendly atmosphere, this authentic Cuban cafe is definitely worthy of a visit. They also accommodate take-out orders called ahead if you want to enjoy some Cuban cuisine back in the comfort of one of our Pigeon Forge cabins.
Useful Information
Smokies Cuban Cafe
3526 Parkway, Pigeon Forge, TN 37863
(It's set back just a little from the road, so map it)
Tel: 865-365-1700
Web: smokiescubancafe.net