For over 45 years, Smoky Mountain Trout House has proudly served Gatlinburg seafood, steak, and pasta dishes. Their 10 different rainbow trout dishes are the star of the show for sure, although it's also a popular place to grab a double cheeseburger.
All the trout comes from local sources, taking advantage of the bounty of the Smoky Mountains. The historic building adds to the dining experience (with good parking across the street). The place is small but with two floors, and the friendly and efficient service will have you feeling right at home.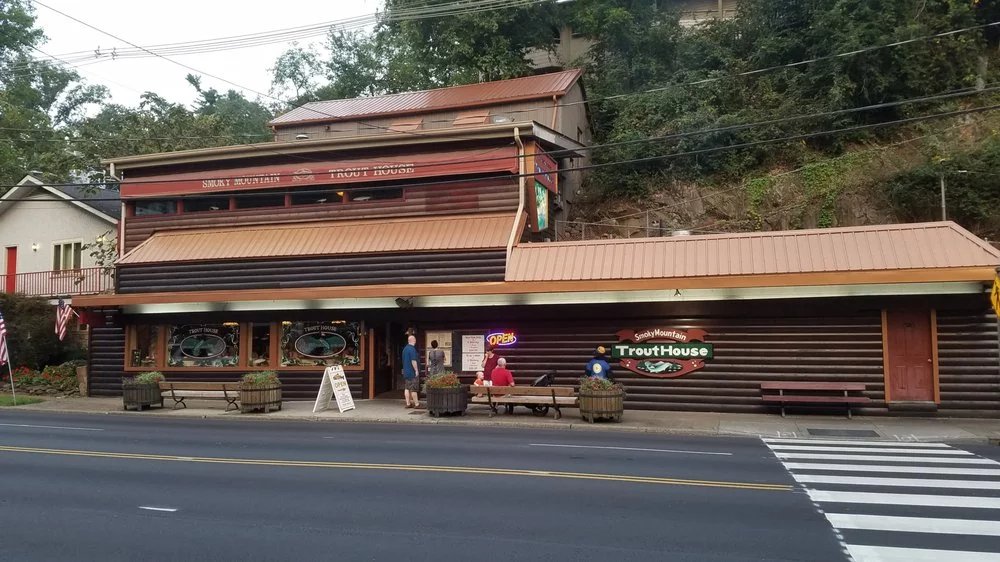 A favorite with locals, the restaurant also won the Travelers' Choice Award from Tripadvisor in 2020. Winning this award points to their endless hospitality for locals and tourists alike along with all their top-notch menu items.
Memorable Building, Great Food
Smoky Mountain Trout House opens at 3pm for a late lunch or early dinner, and serves until 9pm most days, unless customer traffic fizzles out before then, when they'll close their doors early. So, you definitely don't want to wait until the last minute to come get a bite to eat.
They do not take any reservations, although they prefer that you call ahead when planning to dine in a group of five or more. Since it's walk-in only, you'll want to be ready for a bit of a wait for a table to open up. The wait can go well past 30 minutes during the height of the tourist season. It's worth it.
The historic building has the classic fish house design, adding to the appeal of dining on ultra-fresh seafood. The rustic decor has a homey feel and gives a nod to some of the mountainside cabins surrounding it. Truly friendly service makes it easy to get cozy while you await tasty home-cooked food.
Serving Smoky Mountain Favorites
For the full dining experience available at the Trout House, it's best to bring a big appetite. The appetizers are tasty, and you'll want to start with one (or more!) before moving onto the main course and dessert.
When it comes to their starters, go with their Trout Fritters, for sure, especially if you only want one starter. A house specialty, this dish starts with fresh trout combined with onions, peppers, and potatoes. They put the fritters in the fryer until golden brown before serving them up with their homemade dill sauce.
If that's not quite your style, you can't go wrong with the Fried Pickles, Fried Mushrooms, or Wisconsin Cheese Curds. The restaurant serves non-alcoholic beverages, local and imported beers, and has a full wine list.
Whenever trout goodness calls your name, just set your sights on their 10 distinct rainbow trout dinners. With its cornmeal breading and classic sides, The Eisenhower is a house favorite. Other dishes include blackened, grilled, broiled, and even stuffed and smoked trout.
The fire-grilled steaks at the Trout House are very good. The Ribeye is acclaimed, but the New York Strip and Sirloin may be your choice. Deep-fried catfish and shrimp, grilled chicken sandwiches, chicken tenders, and cheeseburgers round out the menu. There 's also a handful of selections made just for kids, so all ages can enjoy their visit to the fullest.
Although it's tempting to fill up on appetizers and entrees, save room for dessert. Otherwise, you might end up missing out on Chocolate Lava Cake, Key Lime Pie, and Coconut Cream Pie.
Useful Information
Smoky Mountain Trout House
410 Parkway, Gatlinburg, TN 37738​
Tel: (865) 436-5416
Web: trouthousegatlinburg.com
Hours: Daily 3-9 pm