The Smokies feature some great whitewater rafting! Read our guide to rafting on the Pigeon River near Gatlinburg. Find outfitters, rates and things you need to know for your rafting trip.
For whitewater rafting near Gatlinburg, the Pigeon River is the place to go. The area around Hartford, TN, 45 minutes from Gatlinburg, has a number of excellent whitewater outfitters running 1 1/2 to 2 hour tours down the river (See below for a list of top outfitters). Depending on your taste, your trip can be an thrilling whitewater experience, or just a nice day on the water with the kids.
The Pigeon River is a dam-controlled river running parallel to I-40, northeast of the Great Smoky Mountain National Park. Since the water flows from the bottom of a lake, that means it's cool even on the hottest summer days.
You have a choice of trips on either the Upper or Lower Pigeon River. The Upper Pigeon River is a true whitewater rafting experience and real rollercoaster ride with Class 3-4 rapids (If you're not quite sure what Class 4 rapids looks like, click here and scroll down to see photos).
It's great fun, but not suitable for children younger than 8 years of age. And you will definitely get wet, no matter which part of the raft you sit in. Trips run from 5 to 6 1/2 miles, depending on the outfitter you choose.
For families with small children or people seeking a nice day on the river without the adrenaline rush, the Lower Pigeon River is the better choice for rafting. Trips here run about 5 to 5 1/2 miles and feature some gentle Class 1-2 rapids. The trip is scenic, and there are plenty of opportunities to go swimming.
Regardless of which trip you take, no whitewater rafting experience is necessary. You'll be traveling down river with an experienced guide steering your raft.
Whitewater rafting in the Smoky Mountains is mostly a summertime activity. From Memorial Day through Labor Day, the dam releases water on the Pigeon River every Tuesday, Wednesday, Thursday and Saturday, which means you should have a good ride with plenty of whitewater. During the rest of the year, water release is unscheduled, so call ahead and confirm that it's a good day for a trip or check the water gauge here.
Trips take 1 1/2 to 2 hours. Plus you'll want to budget time to drive to your rafting outfitter.
Top Whitewater Rafting Outfitters
Here are four of the best-known outfitters running whitewater tours in the area.
BE SURE you know where the trip starts. Some outfitters, like the Nantahala Outdoor Center, have ticket offices in Gatlinburg. But your trip actually starts in Hartford, TN, 45 minutes outside of town.
Check your outfitter's web site for directions. Don't trust your GPS to find the right spot!
Smoky Mountain Outdoors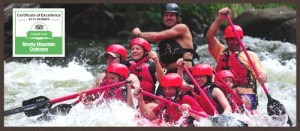 3299 Hartford Rd.
Hartford, TN 37753
www.smokymountainrafting.com
(866) 861-9192
On both the Upper Pigeon River and the Lower Pigeon River.
Get a
Free Ticket
to Smoky Mountain Outdoors, plus
over $300 in other coupons
when you book a cabin. Call
866 34 SMOKY
for details.
---
Rafting in the Smokies
3595 Hartford Road
Hartford, TN 37753
www.raftinginthesmokies.com
800-776-7238
Upper Pigeon River – 5 miles, 1.5 hours. $42 per adult.
Lower Pigeon River – 6 miles, 2 hours. $35 adult.
---
Nantahala Outdoor Center – Gatlinburg
1138 Parkway
Gatlinburg, TN 37738
www.noc.com
865-277-8209
Upper Pigeon River – 5 miles, 1.5 hours. $42.99 per adult.
Lower Pigeon River – 4 miles, 1.5 hours. $29.99 adult (age 8+), $19.99 child (age 3-7).
---
Outdoor Rafting Adventures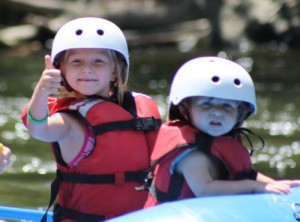 3635 Trail Hollow Road,
Hartford, TN 37753
www.raftoutdooradventures.com/
866-333-7238
Upper Pigeon River – 2 hours, Class 3 & 4 Rapids. $30 from age 8+
Lower Pigeon River – 2 hours. Adult $30 Child $21
(Also provides a Child Float for age 3-10)
---
Big Creek Expeditions
PO Box 117
3541 Hartford Rd.
Hartford, TN 37753
www.bigcreekexpeditions.com
(877) 642-7238
Upper Pigeon River – 6 miles, 1.5 hours. $44 per person.
Lower Pigeon River – 5.5 miles, 1.5 hours. $37 for ages 8+, $32 for children ages 3-7.
Enjoy your trip!