With Valentine's Day nearly upon us, the season of romance begins. And whether you've been married for years or are just falling for each other now, there's no finer place to celebrate Valentine's Day than in the Smoky Mountains.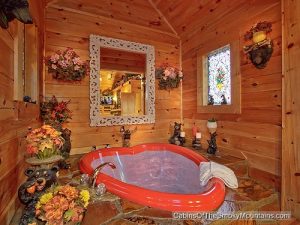 The magic of the Smokies is the backdrop for all of our luxury vacation cabins. Some are secluded enough to make you feel you're the only ones up there. Others feature views of lushly wooded landscapes, babbling brooks, and rolling foothills. In all directions, you'll enjoy the serene landscape of the Smokies, the fresh mountain air, and the song of birds and wind through the trees.
To make your Valentine's Day getaway truly special this year, we invite you to add a romantic getaway package to the cabin of your choice. Check the 3 and 6 night romantic getaway packages in our Gatlinburg honeymoon cabins page. We have several options to choose from – and you can also create your own romantic getaway!