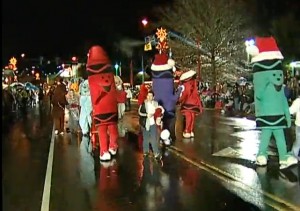 This Friday evening, December 7, don't miss the 37th annual, 2012 Gatlinburg Fantasy of Lights Christmas Parade. The parade lineup features over 100 entries, marching bands from home and neighboring states, and some great, giant helium balloons.
The parade starts at 7:30 pm from traffic light 1A at highway 321 and travels through downtown along Parkway, reaching traffic light 10 around 9 pm.
All of this will happen amid the Gatlinburg lights displaying their famous Winter Magic, with this year's super-improved sparkle from the recent upgrades and additions.
Anywhere along the route you can find a spot to perch, your whole family can mingle with an anticipated 70,000 (and counting!) festive parade-watchers. This is a friendly crowd and it's a great time for all, in a dazzling super attraction.
Another sight your kids will love is Winter Wonderland at the Carousel – in the afternoon hours before the parade, Santa will be on hand there, and there will be plenty of treats for the kids in the main parade viewing area. This is at Carousel Mall (now Carousel Gardens), located at traffic light 3.
You can learn more about this whole event at 1-800-568-4748.
Here's a clip from an earlier Christmas Parade – and remember, as with everything in this festive Smoky Mountain area, it all gets bigger and better every year!