Friday, December 5, 2014, marks the date of Gatlinburg's 39th Annual Fantasy of Lights Christmas Parade. It will also be a Guinness World Record event, if 20,000 people wear a red nose!
The parade starts at 7:30 pm at Traffic Light 1A at the north end of Parkway. Some 80,000 people are expected to throng Parkway to watch the parade, and they'll have to fight to get their red noses, because there's only 20,000 of these to go around.
Noses will be handed out to the crowd along Parkway at the start time of 7:30. If only 16,093 people wear the nose at the same time for 5 minutes, Gatlinburg will beat the current world record set in Australia three years ago. If you're one of the red-nose wearers, you'll go down in history.
Caleb Johnson, this year's American Idol winner, will host the parade as Grand Marshall. He'll also be at Ripley's Aquarium the following day on Saturday afternoon (2-4 pm) for an autograph session.
The Christmas Parade works its way down Parkway and ends at Traffic Light #10. It takes an hour or more for the full parade to pass all the way through the end.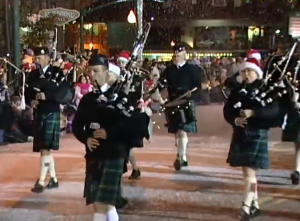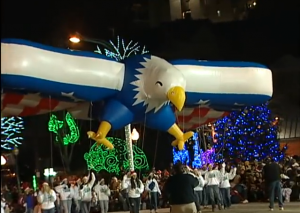 The mile-long parade will once again contain over 100 entries, including a host of wildly lighted and decorated floats – and people – led by Santa and Mrs Santa of course on their own stunning float. Look for dancers and musicians, horses and soldiers, Christmas attire everywhere, cartoon characters and people decorated all in lights.
A dozen marching bands from around the region join in to pace the parade with a bit of rhythm, and the huge, helium-filled balloons in the shape of giant animals and characters will again be in the lineup.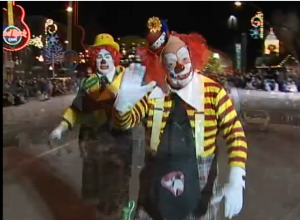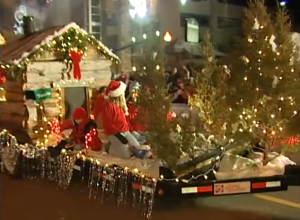 All of this will happen in the brightly sparkling Christmas-lighted city of Gatlinburg, in a bustling crowd of enormously friendly people. It's a very family-friendly event. Best advice for the event is to come early and get parked ahead of time. Parkway of course will be closed during the parade. The two city garages at Light #3 and also at Ripley's Aquarium at Light #5 are free, and there are paid lots at various places along the route.
Ambling along Parkway is always fun, and this night you and you family will be mingling with many thousands more people than usual, and the fun will be enormous. Find a spot to perch wherever you can along Parkway. And if someone offers you a red nose, put it on and smile!