In the Great Smoky Mountains region, handcrafted items made by talented locals forms a living part of the area's history. One great way to experience the creative culture first-hand is to visit Gatlinburg during the 42nd Annual Summer Craftsmen's Fair, held July 14-23, 2017, in the Gatlinburg Convention Center.
The Gatlinburg Convention Center offers 150,000 square feet to hold this year's Fair, with an estimated 200 booths filled with a vast variety of hand-crafted items, for sale or just to admire. Pick a day that fits your schedule from Monday-Saturday from 10 a.m. to 6 p.m. and Sundays from 10 a.m. to 5 p.m. Admission is $7 for adults and free for children ages 12 and under.
Exhibits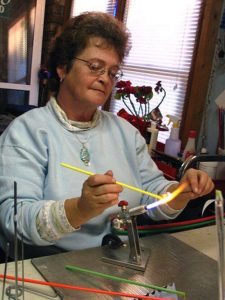 There is something extra-special about hand-crafted items that sets them apart from the pack. The vision of the artist, their attention to detail, and the time spent designing an original piece to perfection sets a high level of quality.
At this year's fair, as with those of the past, the exhibitors bring a long list of artistry and wares for you to peruse. Whether you're picking up a souvenir for yourself or doing early Christmas shopping, there's something of interest for all ages. This short sampling of exhibitors will give you an idea of what's waiting for you at the fair.
Master wood carvings
Colorful handmade quilts and collectibles
Exceptional hand-thrown pottery pieces
Unique and interesting handcrafted jewelry
Artwork in multi-media
Leather goods
Copper art
Candy makers and homemade jellies and jams
and much more
Each artist participating at the fair has been vetted by jury to ensure the pieces displayed and available for sale meet the standards as hand-crafted, superior quality, originality, and not duplicated. It's impossible to list all the unique items that show up at each Craftsmen's Fair, but for a small taste visit the Facebook page to see lots of photos of some of the exhibits.
Entertainment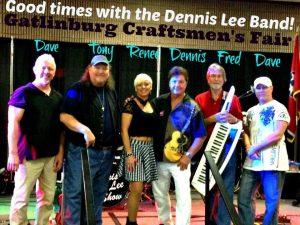 Live music accompanies the artistry at the fair, with daily shows featuring the sounds of The Dennis Lee Band sharing renditions of their favorite songs on stage. The five-piece group sings soulful gospel, classic country, and foot-tapping bluegrass each day.
Shows begin at 12 p.m., 2 p.m. and 4 p.m. Monday-Saturday and 12 p.m. and 4 p.m. on Sundays. Included with price of admission.
Along with musical entertainment, the artisans will be providing their own form of entertainment by showing off their particular skills throughout the fair. This is a great feature of the Craftsmen's Fair, the opportunity to watch the techniques used and secrets shared that result in beautifully detailed, original, and one-of-a kind pieces.
As with most things in the Smoky Mountains, this is a super-friendly event, and every artisan at the fair is very accessible for questions and requests – including specially commissioned pieces if you want.
Kid's Corner
Youngsters can use their imagination to create their own pieces of art work to take home while visiting the fair. At the Kids Corner, hosted by the Smoky Mountain Resort Ministries, young art enthusiasts can participate, for free, in a variety of do-it-yourself projects such as painting and sand art.
Food and Beverages
Taking in all the sights and sounds of the Craftsmen's Fair can take the better part of the day to soak in all there is to see. To keep your energy level replenished and palates pleased, concessions stands are located throughout the center for your convenience. Grab a soda, pick up a tasty snack, or something more substantial while cruising the aisles.
The Southeast Tourism Society awards the Craftsmen's Fair one the most popular events in the south. If looking at, learning about, buying for yourself, or giving handmade crafts is something you enjoy, this is the time to visit Gatlinburg, for the Summer Craftsmen's Fair.