Winter in the Smoky Mountains turns into the best of fun at Ober Gatlinburg Ski Resort, just an Aerial Tramway ride away from downtown Gatlinburg.
During the ski season, Ober Gatlinburg holds a number of special events, fun to participate in if you're an advanced skier, and fun to watch at any level of skill.
Check out this view of the ski area from the air:
The ski resort has advanced snow making equipment and starts turning the big guns on as soon as temperatures allow. While some of us are still lingering over memories of fall colors in the mountains, the mountain crew is busy turning everything white and building a base.
For an instant update on the slopes at Ober Gatlinburg, see our ski report page
Ober Gatlinburg usually kicks off its special events each year with a Rail Jam for advanced skiers to try out their moves on rails and pipes set in an area close to base lodge. This is a great spectator sport with a hot drink.
As the snow builds, crews groom the ski area's own Freestyle Terrain Park, specially made for the advanced skiers and snowboarders to practice and compete with jumps and turns, and rides along rails, boxes and pipes.
Nighttime skiing under the lights is popular at Ober Gatlinburg, with several Free-Flow Fridays when the day crowds have gone. These are good times to practice skills, and the resort frequently offers free lessons and introductory deals to help skiers progress. Sunday afternoon sessions are another popular time for a special event.
Ober Gatlinburg usually offers several Ladies Nights in the season with a female instructor, a good time for women to practice, away from the male critique!
Through the season, the resort offers contests and practice events for several different skill levels, and crews and instructors prepare the park accordingly.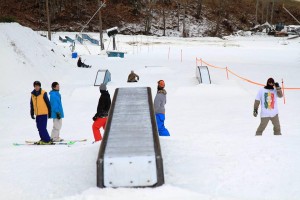 Ober Gatlinburg holds a major contest about once a month, with competitors arriving from neighboring states to participate. Prizes can include a full season pass for the next year.
As the season progresses and spring draws closer, expect the annual Spring Fling celebration, a fun time with vendors and concessions on hand, lots of jumps, and pond skimming, where not everyone makes it all the way across!
Here's the 2015 Winter Calendar of Freestyle Events at Ober Gatlinburg
Free Flow Friday: One Hit Wonder – Jan 8th 7PM
"Pop This" High Ollie Contest – Jan 22nd at 6 PM
Sunday Session: Slopestyle – Jan 24th 1PM
Free Flow Friday: Hand-Plant Challenge – Feb 12th 7PM
1st Annual "King of the Mountain" – Feb 20th 11AM
Sunday Session: Air and Style – Feb 21st 1PM
Spring Fling – Mar 6th 12PM
Ladies Night in the Park – Jan 12, Feb 16, and March 1st
Also see the Ober Gatlinburg Freestyle Terrain Park Calendar for full details
UPDATE – A little clip of the Friday workout on March 4, 2016: