Nothing says winter like snow, and Ober Gatlinburg in the Smoky Mountains has plenty of it. The slopes will open in December, but the 2014 fun season starts on November 21 with a Rail Jam on Friday night, celebrating the newly groomed snow in the Tubing Park. Then on Saturday – Snow Tubing begins and it's winter!
The "Back in Blue" Rail Jam is a chance for skiers and boarders to try their moves on the rails – because facing in the same direction is boring, right? Competitors in two age groups of 14 and under and 15 and over will compete for a piece of the $1,000 prize money, along with lots of merchandise being given away.
Free for competitors and spectators, the fun starts at 7 pm. There will be DJ music, food, drinks and lots of skiing. This is great fun for those who love the white powder – and Ober Gatlinburg has even more enhanced snow-making capacity this year, its 53rd season as Tennessee's only ski area. Here's a clip from last year's Rail Jam:
Saturday the family fun starts with Snow Tubing, a blast at any age. If you're taller than 42 inches and older than 6 you can go solo on your own tube (younger children ride with adults). The Tubing Park is open 7 days per week, with 5-6 sessions each day of an hour and a half each.
Everyone can tube, young or old – you just get in your tube and sled down the slope, glide to a gentle stop, and Ober brings you back up to do it again. If you're not laughing and exhilarated by the end of it, check for a pulse!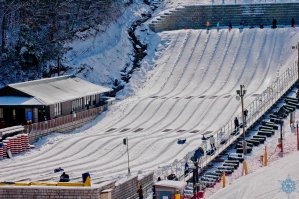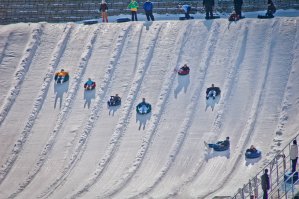 Tickets for Saturday's opening day can only be bought on the slope, and it's a first-come basis, so plan early. You can drive up to Ober Gatlinburg, roads and weather permitting or take the tram from downtown Gatlinburg (at Parkway and LeConte) – which can get crowded, but it's also a treat not to be missed.
If you don't know Ober Gatlinburg be prepared to be impressed. You can eat and shop there, and even go ice skating on the indoor rink. Check it all out at the Ober Gatlinburg web site, and see more info for Snow Tubing times and tickets, and the 2014 Rail Jam.
TIP: Ober Gatlinburg is within minutes of most of our Gatlinburg cabin rentals, Pigeon Forge cabins, and Wears Valley cabins.