Pigeon Forge sees the 8th Annual Smoky Mountain Cornhole Tournament on Saturday, August 5, 2017, held at Old Mill Square. There will be cash prizes for 1st through 3rd places in both Competitive and Amateur Divisions. Also non-cash prizes for the top 3 places in the Tailgaters Division.
Tailgaters? Okay, the competitive game of Cornhole is a bean-bag toss, except the bag is filled with corn. The 4-ft long board is on a slope, and has a hole in it. Throwing from at least 30 feet away, you have to get the corn bag closest to the hole and ideally in it. There's a smaller board, 3 feet long, also lighter so it's easier to carry. This is the tailgater size, as opposed to the regulation size.
Everything about Cornhole has the air of the tailgate party about it. It's been described as "the parking-lot version of horseshoes". You can basically carry your equipment with you – to a picnic, deck party, concert, rental cabin in the Smoky Mountains, anywhere with a little space and a few people – and you can set up your game.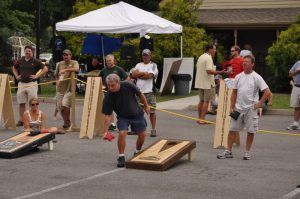 Cornhole has become popular across the country, and is now even represented by organizations such as the Cornhole Players Association and the American Cornhole Association.
The game has grown in popularity because it's a whole lot of fun. Throwing an object gently aimed at a target is a relaxing skill that also goes well with food and drink – you can play it one-handed – and lots of joking around. It's also a sport that practically any age can take part in, from very young to very senior.
The Tournament is free to attend – participants must be registered. The tournament begins at 11 am and lasts all day. There will be souvenirs including tee-shirts to buy, and The Old Mill restaurants stand close at hand to revive any persons weak from hunger.
After the Tournament, stick around for the free evening show called Stringtime, at 6 until 8 pm in front of the Pottery House Cafe and Grille, with fine Appalachian style music, provided this year by Jesse Gregory Keen.
For more information see The Old Mill website.
Save
Save