Pigeon Forge is the place to be Thanksgiving evening, November 23, 2017 for the annual fireworks show at the Titanic Museum attraction on Parkway between Lights #1 and #0. The show starts at 7 pm.
The Titanic offers one of the greatest pyrotechnic displays of the year, and you can easily view it from the large parking lot, or go on board and join the special festivities – if you can get a ticket that is. The Titanic is very popular at any time and this special event draws thousands of people.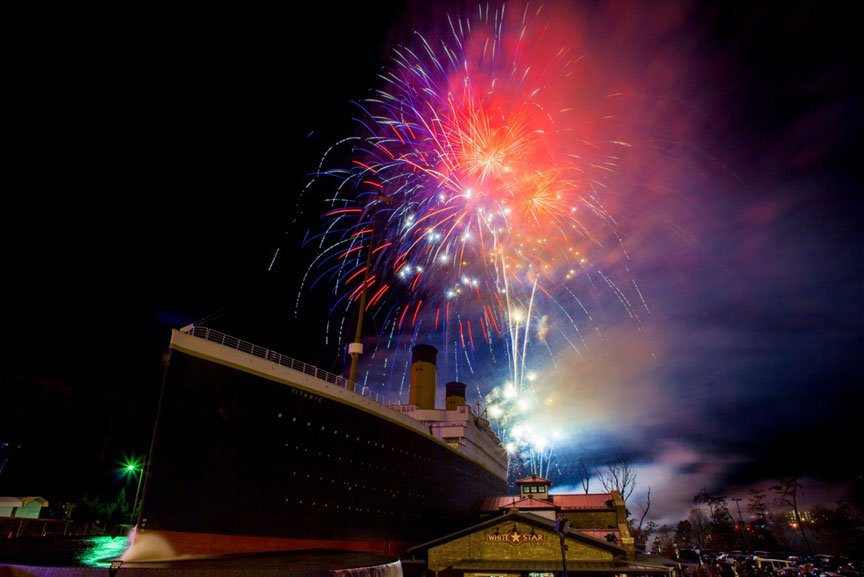 You can book ahead through the Titanic website, or call 1-800-381-7670 for last minute options.
The Thanksgiving event opens the Titanic's Christmas program, and this year they introduce the Titanic Fantasy Princess, casting her spell in a grand and lavish performance, along with the Ship's Captain to enthrall with stories.
The Titanic is decked out in period from furnishings to Christmas lights, and offers a captivating and immersive experience at any time of the year. THIS time of the year is all about the holidays, and the grand signal that the holidays have begun is with the Thanksgiving Fireworks lighting up the sky.