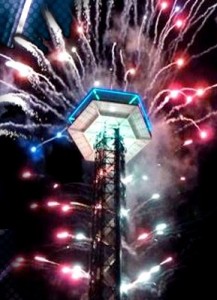 It's getting close to 2013 New Year's Eve, and Gatlinburg and Pigeon Forge are getting the celebrations ready to add FIREWORKS to the millions of already dazzling winter lights!
Gatlinburg Space Needle
Gatlinburg's big extravaganza is the Ball Drop at midnight from the 400-ft tall Space Needle, accompanied by a pyrotechnic show of synchronized fireworks and music that has to be experienced to be believed!
The Space Needle event is one of the great New Year's celebrations of the South, always attracting large crowds and many visitors. The 26th Annual New Year's Eve Ball Drop and Fireworks Show this year features a free entertainment stage at 11 pm with a Vegas-style show guaranteed to amaze.
Also this year LED sequencing lights are added to the tower, just to blow minds even more than usual, synching in with the spectacular pyrotechnic display delivered by Tennessee's very own, internationally renowned Pyro-Shows.
Here's some footage from the 2012 New Year's Eve fireworks show:
As part of the celebration countdown to the big midnight event, Gatlinburg as always hosts a multitude of shows, restaurants and attractions for dining and fun during the evening.
Pigeon Forge Great Wheel
Meanwhile if you're in a Pigeon Forge state of mind, there's a brand new way to celebrate now, thanks to the Great Smoky Mountain Wheel at the Island. There are Free festivities as well as a a ticketed VIP party with music and dancing provides the backdrop to a very special midnight ride on the 200-feet tall observation wheel.
A glass-floored, enclosed gondola with drinks and chocolate strawberries may just be the best vantage point to view the fireworks shows at the Island and all over the city at the midnight hour. Seats MAY be available at the last minute, call (865) 286-0119 to check and check details here.
Down on the ground free festivities at the Island include the Fireworks Show and Midnight Ball Drop, as well as a special showing of the new light-show water fountains.
As with Gatlinburg, Pigeon Forge attractions and businesses are offering plenty of ways to find entertainment during the evening and also to join in the New Year's Eve celebration.
Country Tonite continues to offer its top-rated one show you don't want to miss, with a family-fun special New Year's Show starting at 10 pm. There's a Balloon-Drop at midnight, with non-alcoholic sparkling drinks and a chance to mingle with the cast.
In 2014 both Pigeon Forge and Gatlinburg will continue their winter festivities, and that's another story – for next year!