Sevierville puts on its FREE street festival again with the 18th Annual Bloomin' BBQ and Bluegrass festival, on Friday and Saturday, May 20-21, 2022. It's two days of music and competition barbecue with entrants from across the country in the historic downtown of this fun loving town. It's family friendly, with kids attractions, hot musical talent, and tens of thousands of visitors who wouldn't miss this party for the world.
The festival features 3 stages, and the music kicks off on Friday at 5 pm. Three great performances lead up to the headline band at 8 pm, with the Dan Tyminsky Band. If you don't know the name, you'll recognize the voice as the signature singer with Allison Krauss and Union Station, and the real voice behind George Clooney in the movie, O Brother, Where Art Thou – see our feature story on this and the multiple award-winning Kyminski when he played at The Holler in Gatlinburg a few years back.
Once the music starts in this free street festival it won't stop, including a late night jam with some very accomplished musicians, starting at 10 pm and often drawing as many as 100 musicians! The jam is free to attend and lasts until midnight. Then it's music all day Saturday from noon until late. Check out the full line-up for details on the 20 great bands playing!
Some of the best bluegrass and related music you can hear will also be accompanied by some of the best BBQ presentations you can taste anywhere, with grillmasters from all over in attendance and filling the air with secret sauce. The Cook-Off is an official barbecue championship of Tennessee, with over 30 teams competing for prizes, cash and the sheer prestige, so it's a serious serving of the best – come hungry to this one!
Saturday includes the Mountain Soul Vocal competition, with over 30 finalists from around the country – including the superb local talent – in a contest for best renditions of songs by Dolly Parton, Sevierville's own daughter (see her statue downtown at the festival), as well as one of the nation's most prolific songwriters, with over 3,000 of her songs to choose from!
The festival includes many vendors, with lots of arts & crafts as well as food and everything else to browse through. Sevierville has a rich variety of galleries, boutiques and stores in the historic downtown as well, and you can get a chance to win a $100 gift card by exploring the locations listed in the Shop Hop on the festival program.
Kids are full of smiles at this festival, with a hug from the cutest costumed pig character ever, and kids activities to enjoy, including crafts and rides, games, bouncies, and of course face painting. And for those families interested in the Appalachian history of the area, Sevierville contains a fine selection of it – walk off that BBQ maybe with one of the Historical Walking Tours being offered during the festival. Or stick around and settle in for story telling in the park.
Sevierville is a fun and friendly town, and just a few minutes up the road from Pigeon Forge. There's plenty of free parking in downtown, and plenty of free fun once you get parked. For more information about this happening festival, see the Bloomin' BBQ & Bluegrass website.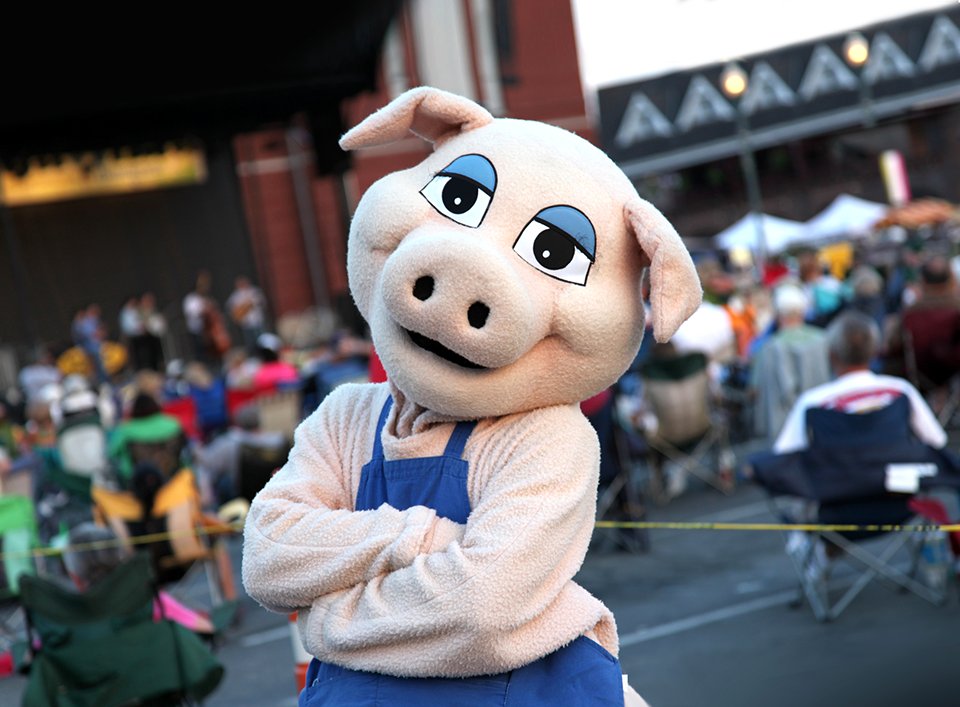 PS…if you're wondering where to stay during the fun, see our tips on How to Find an Affordable Gatlinburg Cabin, How to Find a Gatlinburg Cabin With Spectacular Views and How to Find a Secluded Gatlinburg Cabin.