Pack your dancing boots and a healthy appetite and cruise over to Sevierville, TN for the town's yearly Bloomin' Barbeque & Bluegrass Festival! This two-day fest is a great street party held on Friday and Saturday, May 19-20, 2017 in downtown Sevierville, just a few miles up the road from Pigeon Forge.
The festival is packed to the brim with family friendly activities and great tasting food. And music – as you stroll past the participating booths, you can enjoy some of the best traditional and modern bluegrass and country music the Smokies has to offer.
Arrive With an Empty Stomach
What's the main attraction of this festival? Some people swear it's the barbecue tasting contest. Whether you like it smoky, sweet, or spicy, you're guaranteed to find some tender cuts of meat to tickle your taste buds. You can also watch the judges go from table to table sampling each dish as they decide who created the best barbecue in the South.
Celebrate Bluegrass Music
This is also a great opportunity for the abundant local talent to make its mark in the song contests at the Bloomin' Barbeque & Bluegrass Festival. Do you think you have the vocal chops to compete? There are two age categories for the Mountain Soul Vocal Competition, which is run in honor of Sevierville's mative daughter, superstar Dolly Parton. Wow the crowd with your take on one of Dolly's three thousand songs.
If you prefer to stay in the audience area, kick back with the powerful music of the thirteen bands playing during the event. Music starts at noon and continues until 8 or 9 in the evening. You can catch bluegrass and country stars like Lorraine Jordan & Carolina Road, and Saturday night headliner Ricky Skaggs. Check the schedule for the complete lineup. Concert admission is as free as the festival itself.
Activities for Kids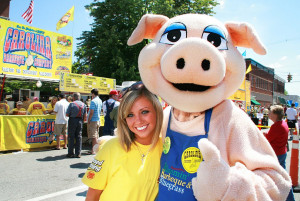 So what's there for the kids to do? Apart from filling their bellies with BBQ and dancing to the bands, they'll find plenty of arts and crafts booths. Older children may enjoy creating their own one-of-a-kind, hand-poured candle, or getting a quick portrait done by a professional artist. Younger tykes will love the special 'Kids Zone' set up by festival organizers. There, they can try hands-on musical instruments, let loose some energy in a bouncy house, and explore a variety of discovery areas. Note that some activities have a small extra charge.
Handicrafts with Heart
However, bluegrass and barbeque is just the beginning of what this festival has to offer. In Sevierville you can take a look at amazing traditional Appalachian handicrafts. Woodcarvings have been a proud tradition in the area for generations. If you have the space in your truck, you can invest in a few pieces of hardwood furniture that will last a lifetime. You can also splurge on unique, rustic jewelry, leather goods, and the Smoky Mountains' famous stoneware. Take a look at the list of featured arts and crafts vendors.
And for more information see the Bloomin' Barbeque & Bluegrass 2017 website.
Where to Stay
In this festival time of year, cabins and hotel rooms can book up quickly. If you're staying in the Gatlinburg area, call us at Cabins of the Smoky Mountains (24/7 at 855-91-SMOKY) to learn about our special May deals and book a cabin to stay in.
TIP: Always check the Specials page for last minute deals – such as the HALF-PRICE on ALL remaining cabins special happening on the May 19-21 weekend!
If you're worn out after a full day of music and excitement, you'll love a peaceful night's stay in our serene mountain resorts throughout the area, located just a short drive away from the festival. Why is a cabin the best way to stay in the Smoky Mountains? Check this article: Cabins: the Best Way to Stay in the Smoky Mountains.
Save