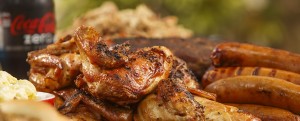 Summer at Dollywood kicks off with its annual Barbeque & Bluegrass Festival, May 23 – June 7, 2015. This means tons of barbeque and dozens of the top names in multiple performances non-stop for over two weeks. All included in the price of admission to the legendary theme park in the Smoky Mountains of Tennessee.
Nothing says American summer like barbeque, and nothing says Appalachia like bluegrass. And nothing says Party like the two of them together!
Everything Dollywood does is a class act, and the music is no exception. Dolly Parton knows everybody in the business, and keeps a lively interest in up and coming talent. Dollywood is a great venue for performers, and the Dollywood talent spotters bring us some of the best music on the scene, from the famous to the rising stars.
Musicians this year include Rhonda Vincent, the Gibson Brothers, Balsam Range, Breaking Glass, the Del McCoury Band, and 2 dozen additional bands. For a full list of performances and times see the schedule page.
All these performers will appear on 4 different stages accommodating 50 shows day and night during this 16-day festival, featuring a total of 250 performances. And it's all free with the admission ticket to the theme park.
If you aren't hungry when you show up at Dollywood during the Barbeque & Bluegrass Festival, you soon will be. More than 50,000 pounds of barbeque, together with a connoisseur's variety of sauces from master chefs, will fill the air with aromas, mingling with the excitement of the music.
For more information check the Dollywood Barbeque & Bluegrass Festival page. Summer in the Smoky Mountains is beginning and at Dollywood you can hear it, smell it, taste it and dance to it!
Stay at one of our cabin near Dollywood, and add our Dollywood vacation package. You'll get Dollywood tickets and skip the lines at the gate.